FARE: A fundraising dinner for the human right to healthy food
Eight of Vancouver's most innovative chefs are banding together in support of the Downtown Eastside Neighbourhood House.
About this event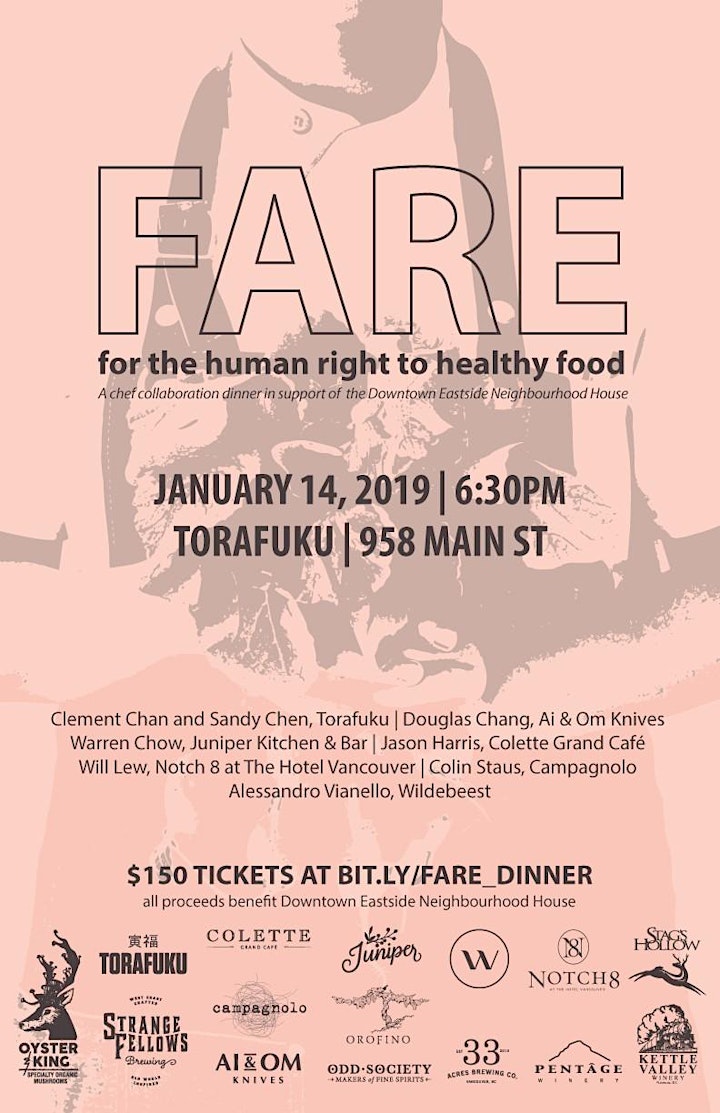 This extraordinary six-course chef collaboration dinner will be experienced at Torafuku Asian Eatery on January 14, 2019.
Inspired by the DTES Neighborhood House's need to secure more funding for their healthy food programs, Torafuku's Clement Chan reached out to his chef community in order to create a dinner that would contribute to these programs in a meaningful way.
FARE: For the Human Right to Healthy Food 
A chef collaboration dinner in support of The Downtown Eastside Neighbourhood House
January 14, 2019
7pm (6:30pm doors)
Torafuku Asian Eatery, 958 Main St. 
$150 per person (all proceeds  benefit the Downtown Eastside Neighbourhood  House, and a donation receipt of $85 can be administered upon request). Welcome cocktail, coursed beer and wine included.
Tickets at: bit.ly/FARE_DINNER
Collaborating Chefs:
Fare Menu*
-Amuse Bouche by Douglas Chang, Ai & Om Knives - Ginger steamed crab with black vinegar, egg flan
-Scallops by Moonlight by Will Lew, Notch * at The Hotel Vancouver - Maple soy smoked scallop, Fanny Bay oyster foam, salmon bacon, geoduck, sake & yuzu clouds, floret of stars
-Sieglinde Potato Tortellini en Brodo by Colin Staus, Campagnolo - Egg yolk & semolina pasta, East Van grown Sieglinde potatoes, broth of 3-year house-aged ham garnished with sage, chive, Parmigiano Reggiano
-Wild Mushroom Tart by Warren Chow, Juniper Kitchen & Bar - Sunchoke, asparagus, spruce tip vinegar
-Butter Poached Sole by Jason Harris, Colette Grand Café - Black truffle, celeriac tart, Pommes Anna
-Ash Crusted Beef by Alessandro Vianello, Wildebeest - Cauliflower and hazelnut puree, slowly cooked leeks, oyster mushroom, toasted hazelnuts
-Chocolate Tart by Clement Chan and Sandy Chen, Torafuku - Passion fruit gelée, orange pekoe ice cream, chocolate truffle
* Due to the collaborative and charitable nature of this dinner, substitutions are politely declined.
Some ingredients may change by the dinner date due to availability of ingredients. 
All proceeds from the Fare dinner will benefit the DTES Neighborhood House and support programs that promote: the right to quality, healthy food for all; deservedness; and inclusion, especially for those who experience marginalization and are often excluded from consideration when it comes to the right and dignity to access real and healthy food.
The DTES Neighbourhood House offers programming that benefit children, families, seniors and those individuals who are at risk for isolation. They nurture a welcoming space for convening, learning and community and leadership development.  Real and whole fresh foods are offered at each program. DTES Neighborhood House believes that neighbours, especially those who experience poverty and, often, health challenges, have a right to good, nutritious food.
Donations of $150 dollars (price of your ticket) will enable the DTESNH to do one of the following:
Serve 75 nutritious meals or,
Distribute 640 bananas or,
Make 150 real fruit smoothies.
In addition to donations of fresh produce and supplies, the DTESNH also buys a great deal of healthy foods. The most common foods purchased to create over 500 meals per week are: 25 liters of fresh milk; 45 pounds of rolled oats and other whole grains; 75 pounds of fresh fruits and vegetables from local suppliers; 15 pounds of dried raisins, figs and dates. Each month their nutritional outreach programs distribute 560 pounds of bananas for Banana Beat, and 60 pounds of frozen fruit (in delicious fruit smoothies) to the community. Your ticket will help to support all of this!
The Downtown Eastside Neighbourhood House and the participating chefs would like to extend their gratitude to the sponsors of Fare: Strange Fellows Brewing, 33 Acres Brewing Co., Odd Society Spirits, Oyster & King, Kettle Valley Winery, Orofino Winery, Pentage Winery and Stag's Hallow Winery.
Organizer of FARE: A fundraising dinner for the human right to healthy food
The secular, grassroots Downtown Eastside Neighbourhood House (DTES NH) embraces people of all ancestries, genders, ages and descriptions; annually welcoming almost 9,000 DTES residents in a community where 70% of our neighbours have low‐incomes, 700 are homeless and 5,000 are under-housed.
Our programming is community inspired and varied, a sampling of which has included a Chinese Elders Community Kitchen,  Traditional Aboriginal Community Kitchen, Leadership Development, a Children's Community Kitchen, Nutritional Outreach Activities (Mobile Smoothie Project and Banana Beat), The  Healing Circle,  Father's for Thought, Table Talks project, Family Drop In: Families, Farming and Food,  Community Drop-in and the production of a Right to Food Zine.
Those who built the DTES NH put the Right to Food at the heart of our work, as nutritional vulnerability was a theme familiar to all. Our goal around the Right to Food is to reform the nutritional impact, quality, abundance and delivery of food in the DTES in consultation with residents, community food providers, non‐food community organizations, healthcare professionals, policy makers, growers/suppliers, food/beverage industry professionals and researchers.