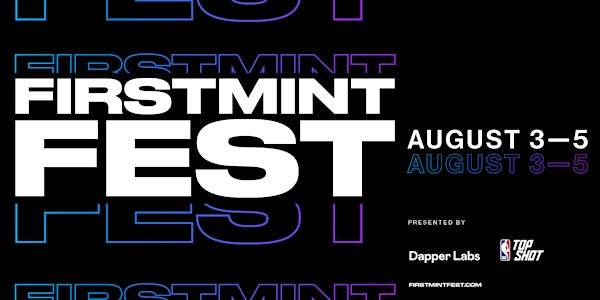 First Mint Fest
A free multi-day showcase of NFT platforms, products, and projects.
About this event
The First Mint and Dapper Labs' NBA Top Shot are rallying the NFT community and the crypto-curious for a first-of-its-kind online festival designed to help you find your next great project or community.
3 Days. Online Only. Free Admission.
The festival begins on August 3rd with a fireside chat featuring Roham Gharegozlou, CEO, Dapper Labs, creators of NBA Top Shot.
Hop into Festival HQ, a pop-up Discord that you can join with your ticket and will only ever exist for three days during this fest. You'll get access to:
all the NFT projects participating in the festival as well as the creators powering the communities behind them
a series of interactive livestream panels from notable speakers on topics like NFT Utility, Creator Economy, NBA Top Shot tools, and more
community initiatives including trivia nights, prizing, and challenges
New to NFTs?
Come find your first project and learn about their game-changing potential.
Got NBA Top Shot?
Come hang with the community and discover new projects.
Crypto veteran?
Come explore new tools and listen to pillars of the community speak on a broad range of topics.
Register now! Stay tuned to The First Mint on Twitter and our Festival HQ for updates and announcements...