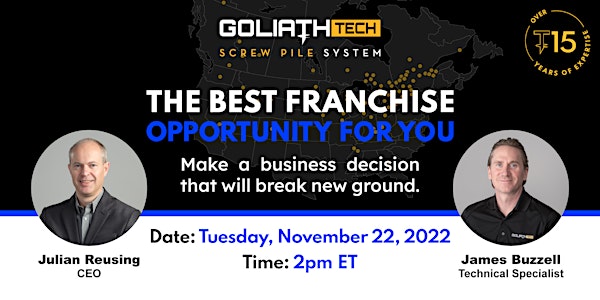 GoliathTech: The Best Franchise Opportunity For You!
GoliathTech is a national and top ranking franchisor. Learn more about the best franchise opportunity in the construction industry, today!
About this event
Who is GoliathTech
Since 2004, GoliathTech has become the most important manufacturer and installer in the helical (screw) pile industry and a top-ranking franchisor. Always at the forefront of our industry, we constantly innovate to realize our mission and vision of offering the highest quality products and services to customers around the globe.
If you have an entrepreneurial spirit and want to take control of your own growth potential, GoliathTech may be the perfect fit for you. With available markets all over the world, opportunity for growth and expansion knows no bounds.
Our successful franchise model comes with many benefits—the process of becoming a franchisee is simple and low-cost with all the training and support needed. There is no profit limit nor royalty fees, and you'll benefit from a proven business model that's guided by experts who want to see you succeed. Join us and together, we'll break new ground! Ready to get started?
Topics we will cover during the webinar:
Frustrations with existing franchise opportunities
Who is GoliathTech and what is a helical pile?
How are helical piles revolutionizing the construction industry?
Why buy a franchise within the construction industry?
If I'm not in construction, how can a helical pile business be a good opportunity for me?
Why is GoliathTech an interesting option for franchising?
Our world-class support
Success stories
Certifications & awards
Steps to ownership
Available business models
Cost and growth potential
Q&A