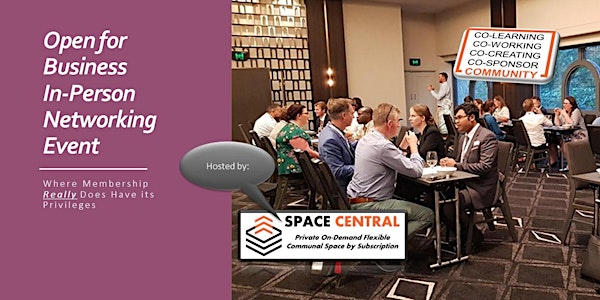 Open for Business In Person Networking Event
Join us in meeting new business minded entrepreneurs in this weekly open networking event at our head office in the Calgary Business Centre
When and where
Location
Calgary Business Centre | Space Central - Main Boardroom (3rd Floor) 1001 1 St SE Calgary, AB T2G 5G3 Canada
About this event
NOTE: For those who don't want to register through Eventbrite, you can also register directly on our website at www.events.spacecentral.ca.
Date: Every Wednesday (unless otherwise indicated)
Time: 6:00pm to 8:00pm
Location: Room 345 - Social Room of Space Central at 1001 1 St SE, Calgary
This weekly event occurs in two parts"
Doors open at 6:00
Introductory Open Networking 6:15 - 6:45
Round Table Introductions (2-10 minutes each)
Short business presentation and Q&A until 7:45
Socializing and networking 7:45 - 8:00
Price: Free for Members; Guests may RSVP with the Free registration option on Eventbrite and make an optional room donation fee by cash or credit card at the door. ($10+ suggested to pay for the room rental).
The wait is over! We are very excited to start meeting new people, building relationships, and getting back to growing our businesses. As this is a weekly networking event, there will be one main presentation each week preceded by a 60-second elevator pitch by everyone else. Depending on crowd size, we often have 2-10 minutes available for each person to go in-depth about themselves. Since it has been awhile for most people, it may feel a little like the first day of school again LOL. So much has changed in all of our lives these last 2 years and it is time to get back to normal.
We will be hosting a live networking event every week which may include some open networking time, some sponsored business tables, and a continuous opportunity to build strong business relationships. Find out why we are so excited about the future and why you should take advantage of the unique business development opportunities that Space Central has to offer.
We encourage you to preview the information videos below BEFORE attending, register for an upcoming event, and enjoy yourself at the next mixer. We look forward to connecting with you each week.
NOTE: Doors to the building generally lock before 6pm. Take the stairs to the 3rd floor since the elevator requires a key card to access that level. When arriving at the venue, be sure to text or call James at 403-614-4100 if you have any trouble entering the building or finding the main boardroom.