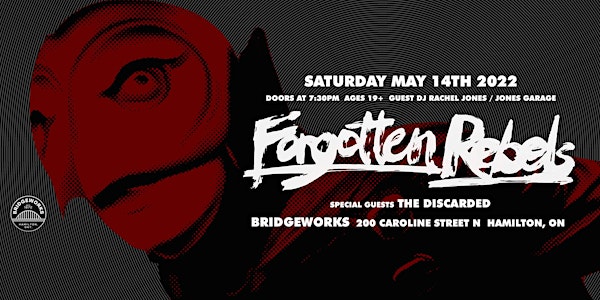 The Forgotten Rebels with The Discarded
Performers
The Forgotten Rebels
The Discarded
Location
Bridgeworks
200 Caroline St. N. (off Barton St. W.)
Hamilton, ON L8R 0A6
Canada
Lou Molinaro Presents The Forgotten Rebels with The Discarded — Live at Bridgeworks!
About this event
In a world and time when sex was everywhere, sponsorship was a sellout, and political correctness did not exist, The Forgotten Rebels were born. The punk rock movement had just began, and the young teens of the day were drawn to the chaos, rawness and truth of this new mutation. A ragged group of motley youth from Hamilton in 1977 were to bring a decidedly more in-your-face approach to music and songwriting. Forgotten Rebels would influence punk rock for the next 40 years. When the band began, a decision was made to laugh and poke fun at everything, everyone, everywhere, leaving no one left out of the joke, even themselves. Singer and founding member Mickey DeSadist recalls "The bands we most admired were, Bowie, T-Rex, Gary Glitter, and the Sweet. However, being new to our musical instruments the best we could pull off was a bad out of key versions, so we decided to write our own songs with less chords". In the summer of '77 they released a cassette tape entitled Burn the Flag. Shortly thereafter they followed this with the infamous four-song EP Tomorrow Belongs To Us. This record garnered the Rebels a myriad of attention and critical acclaim. Currently, the EP commands $250 to $400 and is regarded internationally as one of the finest punk rock records made (it was reissued on CD in 1998). The first full-length album, In Love With The System, was released in 1980 and solidified their position forever in the "Punk Hole of Fame". The album was an instant college and party favourite. In 1981, follow-up full-lengthThis Ain't Hollywood was released. The album showcased DeSadist's strong pop sensibility along with his flare at composing catchy punk rock hooks. To this day "Surfin' on Heroin" stands as a punk gem. Fast forward to 40 years later, The Forgotten Rebels still perform their anthems to a demographically mixed audience. The band (vocalist Mickey DeSadist, guitarist Jeff Campbell, bassist Shawn Maher and drummer Dan Casale) states that their "new" younger fanbase is one of their major reasons why they continue being "In Love With The System"
Facebook | Spotify | Apple Music
•
The Discarded hail from a small town just north of Toronto, Canada called Orangeville. They are comprised of 18-year-old drummer Caden Jax, 22-year-old bassist Jared Dean, and veteran rocker J.P. on guitar and vocals. Yeah, they're all related but this isn't any Partridge family reunion. They are a tight, hard rocking unit that draws upon their shared history to create original punk-inspired rock 'n' roll. In fact, after just five years together they've released 43 original songs, four full-length albums and one EP. And as of 2021, they've added Live Pandemic Sessions to that discography. This new 15-song LP was culled from three sets the band played/filmed in August 2020 in lieu of being able to play live shows. 2020 also saw them complete the recording of their most in-depth project to date, The Getgoes, which they are currently working towards a Fall 2022 release with an accompanying animated film. The Discarded are keeping busy as well with a whole slate of new tunes they began recording in August of 2021.
Facebook | Spotify | Apple Music
••
General Admission standing 19+ event. Mobility accommodations available upon request. Valid government issued photo ID is required in order to enter. Artists and schedule subject to change. Event subject to change in support of evolving public health protocols.