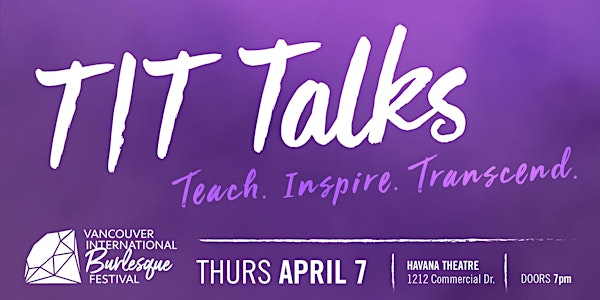 TIT Talks - Teach Inspire Transcend
Vancouver International Burlesque Festival
Event Information
Location
Havana Vancouver Theatre
1212 Commercial Drive
Vancouver, BC
Canada
TIT Talks. Join us for an intimate evening of TED Style talks.
About this event
Join us for sips and stories at this intimate evening of connection and titillating conversation: the Vancouver International Burlesque Festival's exclusive take on TED Talks. Attend in person at the Havana Theatre or watch from home with a livestream ticket.
TIT Talks is a one-of-a-kind event offering unique perspectives on burlesque. This intimate evening encourages compelling conversation and shares dimensions of being a burlesque performer that are seldom discussed publicly.
OUR FABULOUS HOST
Halena Lou, VIBF Board Secretary
TIT TALK PRESENTERS
Judith Stein - Life of a Working Stripper from the 70s-90s
Foxy Lexxi Brown - Confidence is Key: Self Confidence Through Burlesque
Lola Frost - Tour Life: Peeling Back The Curtain
Andrea Cupelli and Courtney Demone - The BC Bad Date and Aggressor Reporting Project
Juicy Jam - Huli Jing: Taking Inspiration from Chinese Mythology
RainbowGlitz - Basic D: Decolonization 101.
ACCESSIBILITY
Havana Theatre has a few small stairs to get from the entrance into the theatre space. The stairs are of a standard size, but do not have handrails or visual/tactile markers of where each step ends. For an alternative route into the theatre that does not have any stairs, the theatre can be accessed by entering through Havana's restaurant entrance.
Washrooms are located inside Havana restaurant, which is accessible via a short hallway from the theatre. There is an accessible stall within each washroom. The washrooms will have gender-neutral signage for this event.
This event is also available to stream live from home.
Full access guide for Havana will be available shortly in our Venue Access Guide.
Craving more burlesque? Make sure to also check out the Glamorama Gala and the Showpony Soiree!
We respectfully acknowledge that all Vancouver International Burlesque Festival events take place on the stolen ancestral territories of the Musqueam, Squamish, and Tsleil-Waututh First Nations. As settlers on these lands, we encourage you to learn about the history of the land while celebrating and uplifting the people of our host Nations.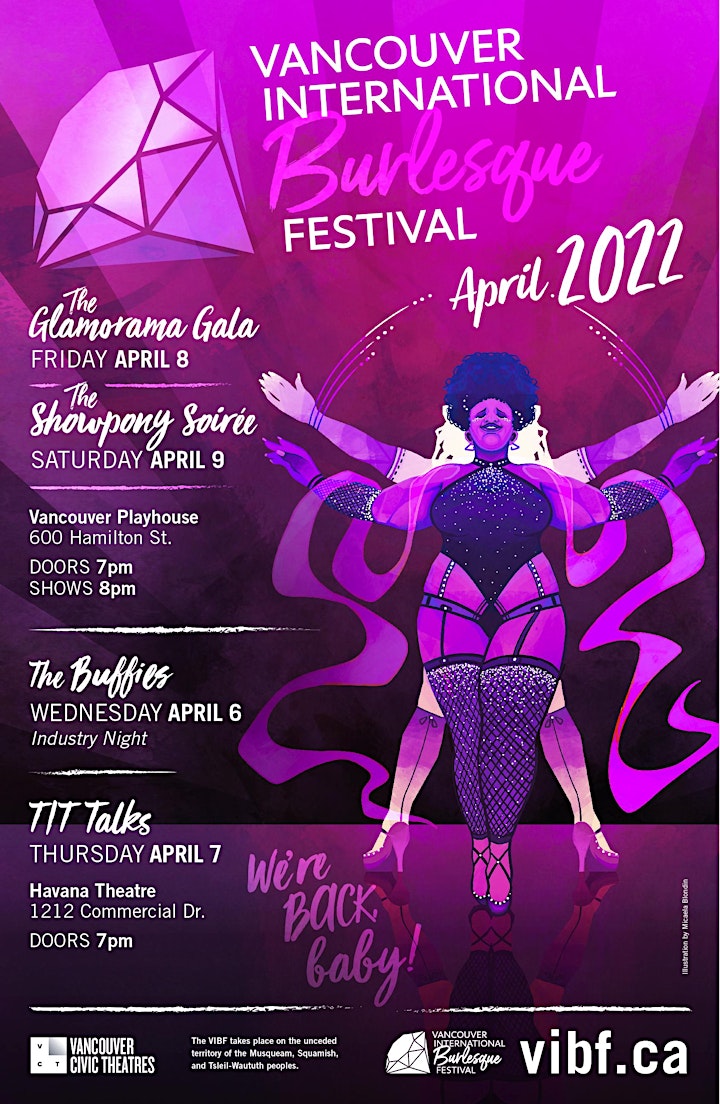 Date and time
Location
Havana Vancouver Theatre
1212 Commercial Drive
Vancouver, BC
Canada
Refund policy