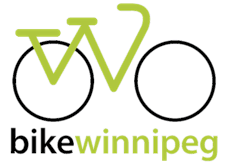 Bike Winnipeg
Bike Winnipeg is a voluntary, inclusive group of concerned citizens working to make cycling in Winnipeg a safe, enjoyable, accessible and convenient transportation choice year-round.
We envision a city where cycling is embraced as the preferred mode of transportation, where cycling is integrated into urban design and planning, and where Winnipeg is recognized as a leader in cycling infrastructure and programs.

Bike Winnipeg was incorporated as a non-profit organization in February 2007 under the name Bike to the Future.  In April 2013, we voted to change our name to Bike Winnipeg.
Sorry, there are no upcoming events