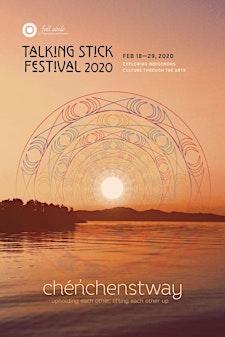 Full Circle First Nations Performance presents Talking Stick Festival
Full Circle: First Nations Performance is a non-proft society and registered charity that creates opportunities for Indigenous artists. Margo Kane (Cree/Saulteaux), an interdisciplinary artist and Indigenous arts leader, founded Full Circle in 1992. Upon establishing Full Circle, Kane's vision was to make a profound contribution to the development of Indigenous performance in Canada.
Traditionally, in the Indigenous world, art is not separated from the community. It is integral to a happy and healthy way of life. Full Circle believes in rooting art back into the community, where it was traditionally and where it is intended to be. Through creating opportunities for Indigenous artists to express their life experiences and engage with audiences of all ages and backgrounds, we share these values with as wide a scope as possile so that people of all races and ages have a better understanding of First Nations, Métis and Inuit culture.
Full Circle's Talking Stick Festival, now in its 19th year, began as a way to showcase and celebrate Indigenous art and performance to a wider audience. From its humble beginnings, this unique and exciting event has grown into a full 2-week Festival held annually in February at locations across Vancouver. Now attracting over 20,000 attendees each year and still growing, we are noted as being the premier, multi-disciplinary Indigenous arts festival in North America.
With a desire to appeal to Indigenous and non-Indigenous attendees alike, our programming focuses on the diversity of visual arts, dance, theate, music, powwow and film in both traditional and contemporary formats.
Introducing our theme for this year's Talking Stick Festival, chén̓chenstway, which translates to upholding each other, lifting each other up. Join us for Full Circle's 19th annual Talking Stick Festival and newly announced Industry Series taking place from February 21-24, 2020.
Sorry, there are no upcoming events