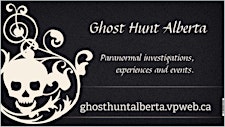 Ghost Hunt Alberta
We are a paranormal tourism company committed to making authentic paranormal investigation experiences available to everyone.
We offer private and public paranormal pub nights and full paranormal investigation events at the best pricing we can offer.
We break even on our events, profit is not our goal. Our goal is to bring people back out into small town Alberta to enjoy our heritage and history while having spooky good time!
For info on our team please visit our webpage www.ghosthuntalberta.vpweb.ca