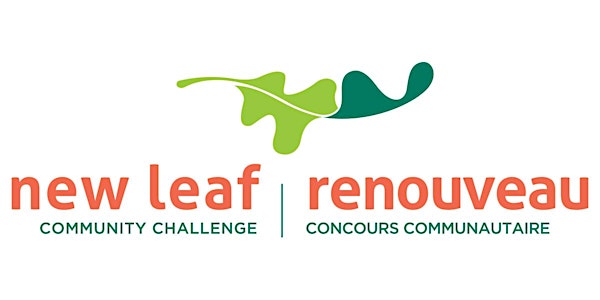 2016 New Leaf Community Challenge
When and where
Location
Amphitheatre Saint Paul University 223 Main Street Ottawa, ON K1S 1C4 Canada
Description

Please join Community Foundation of Ottawa President and CEO Marco Pagani, the esteemed members of the jury, and special guests for the 2016 New Leaf Community Challenge.
The NLCC is an initiative created to tackle critical issues and address pressing needs in our city. This event will showcase three selected innovative proposals designed to improve the employment situation for young adults in Ottawa. The most compelling project will be awarded a grant of $125,000.
Morning of Wednesday, November 9th, 2016
8:45 a.m. arrival for a 9:00 a.m. start
Saint Paul University Amphitheatre
223 Main St., Ottawa
The event will be moderated by Giacomo Panico (from CBC News Ottawa), with opening remarks by The Honourable Catherine McKenna, Member of Parliament for Ottawa Centre. Light refreshments will be served at registration and following the presentations, with the jury decision announced at 11:50 a.m.
Kindly confirm your attendance before November 4th. Space is limited.

For more information please visit our website.

Parking and Directions:
Please note that Main Street is once again open in both directions, except between Riverdale and Clegg. If you are coming from Smyth or Riverdale, turn onto Elliot from Main street, to Marlowe to Clegg.
Public parking in the Saint Paul University lot is $3 per hour to a maximum of $10 (see map below). Parking is free on neighbouring streets.
If you are coming by bus, Saint Paul University is served by two OC Transpo routes, the 5 and the 16. Route maps and timetables for both can be found here.


------

La Fondation communautaire d'Ottawa vous invite à vous joindre à Marco Pagani, PDG, les honorables membres du jurie, et à ses invités à l'occasion du lancement du Concours communautaire Renouveau 2016
Le CCR est une initiative visant à s'attaquer à des enjeux critiques et aux besoins les plus criants de notre ville. Lors de cet événement, trois projets novateurs seront présentés, qui ont le but d'améliorer la situation de l'emploi chez les jeunes adultes d'Ottawa. Une subvention de 125 000 $ sera versée aux fins de la réalisation du projet le plus prometteur.
Le mercredi matin, 9 novembre, 2016

arrivée à 8 h 45, début à 9 h

Amphithéâtre, l'Université Saint-Paul
223, rue Main
L'activité sera animée par Giacomo Panico (de CBC d'Ottawa). L'honorable Catherine McKenna, députée d'Ottawa-Centre, prononcera le mot d'ouverture. Des rafraîchissements seront servis lors de l'inscription et au terme des présentations, et la décision du jury a annoncé à 11h50.
Veuillez confirmer votre présence au plus tard le 4 Novembre car le nombre de places est limité.
Pour plus d'information, veuillez visiter notre site web.
Stationnement et directions:
Veuillez noter que la rue Main est de nouveau ouverte dans les deux sens, sauf entre les rues Riverdale et Clegg. Si vous venez de Smyth ou Riverdale, tourner du Maine à Eliot, à Marlowe, puis à Clegg.
Il est possible de stationner dans le lot de l'Université Saint-Paul au frais de 3 $ par heure, pour un maximum de 10 $. Le stationnement est gratuit sur les rues avoisinantes.
Si vous venez en autobus, l'Université Saint-Paul est desservie par deux routes d'OC Transpo, notamment la 5 et la 16. Les routes et grilles horaires pour les deux peuvent être trouvées ici.