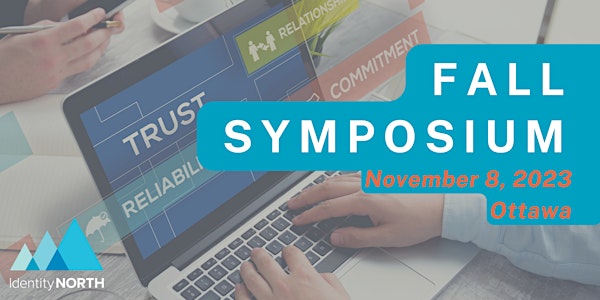 2023 Fall Symposium
Join us to focus on educating, connecting, and promoting the strength of our impact in digital trust & digital economy.
Location
Bayview Yards 7 Bayview Station Road Ottawa, ON K1Y 2C5 Canada
Refund Policy
Refunds up to 30 days before event
About this event
Join us for IdentityNORTH's 2023 Fall Symposium on November 8 in Ottawa, Ontario for an exclusive view of the Future of Pan-Canadian Digital Governments.
The main questions for this series will be:
→ Where are Canadian governments compared to governments around the world?
→ How do we get them where we would like them to be?
Over the course of the day, you'll have the chance to listen to, but also be a part of the conversations that are driving change in digital governments. We encourage you to join in as we tackle some of the most pressing questions facing our sector, businesses, and communities in Canada today.
Speaker Submissions for this event are now open.
Have someone in mind who you'd like to be a part of the conversation? Enter your submission here to help shape the agenda.
Looking to learn more? Get to know IdentityNORTH here.
IdentityNORTH - Call For Speakers
IdentityNORTH convenes a community of Canadian and global leaders who come together, both online and in-person, to share and learn about the big ideas and innovations that are shaping the global digital economy.
About the organizer
​​IdentityNORTH is the leading series of events for individuals and organizations interested in digital identity and the digital economy. Our annual summit and eastern and western workshops are forums where Canadian and international leaders come to share the ideas and knowledge that drive Canada's digital future.
IdentityNORTH events deliver high value content through subject matter experts, keynotes and "unconference" days – participant driven events at which attendees build the agenda and lead inspiring and insightful sessions on contemporary identity topics.