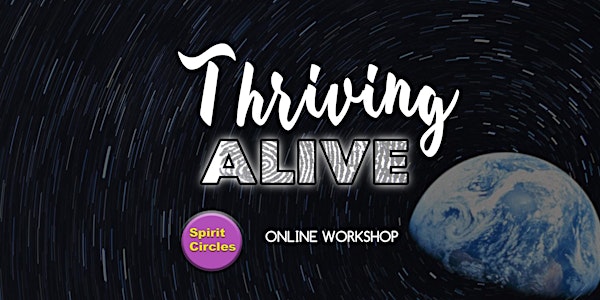 Multiple dates
Thriving Alive Workshop
Learn simple metaphysical concepts that you can immediately use to live your most amazing life!
When and where
Date and time
January 29 · 9am - December 10 · 10:30am PST
About this event
"It is evident that the Seen comes out of the Unseen in accord with Law, and it is equally evident that the Creative Principle can express Itself only in terms of the instrument through which It flows."
— Ernest Holmes. Living the Science of Mind
"Life is not a dress rehearsal". We are continuously practicing... working out how to show up fully, releasing ourselves from the past, and leaning into the beautiful vision we have for ourselves — both now and in the future. Ancient mystics since the beginning of time have been trying to teach us how to live, think and feel in ways that we can thrive together. They have taught about the Creative Principle that is always giving and our unique and direct relationship to It. 
In our Spirit Circles Thrive Alive Workshop series, we learn and practice the very basic metaphysical concepts that influence exactly how you experience your everyday reality. As we adjust our thoughts and how much we're willing to receive, we expand ourselves as the instrument through which the Creative Principle flows.
Are you ready for a greater sense of safety, relaxation, mastery, and perhaps even love, joy and abundance?  
This workshop series is taught by licensed Science of Mind Practitioners, allowing for learning, sharing, and life-affirming ritual to all be part of the mix. Attend one or attend them all.
These events ae offered as an act of service. Admission is free, but donations to our sponsor, The Centre for Inspired Living, are gratefully accepted. The Centre is a registered Canadian no-profit organization.
Pre-registration is required for your first visit, in order to receive the Zoom link. Reserve your spot on EventBrite.
About the organizer
Hearing about Science of Mind and Spirit cracked open our brains and began shifting old patterns. We gather to study and practice together and create beautiful lives.
Everybody welcome!