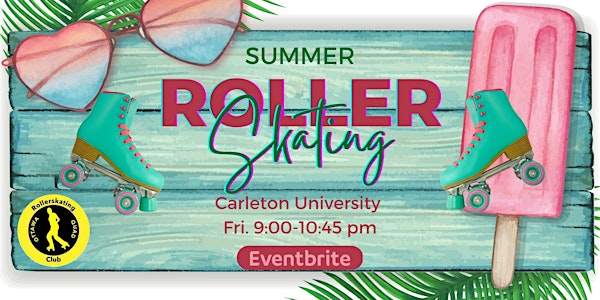 Multiple dates
SOCIAL ROLLERSKATING: OTTAWA QUAD SESSION (May. - Aug.)
Indoor recreational rollerskating for everyone. We skate to tunes. Welcome to our May. - Aug. 2023 Sessions!
By OTTAWA QUAD ROLLERSKATING CLUB
Date and time
Fri, May 26, 2023 9:00 PM - Fri, Aug 18, 2023 10:45 PM EDT
Location
Norm Fenn Gym - Carleton University 1125 Colonel By Dr. Ottawa, ON K1S 5B6 Canada
About this event
JOIN US FOR OUR WEEKLY RECREATIONAL SKATE
Ottawa Quad Sessions are all about fun on eight wheels. Any style, all levels, no instruction, lots of watch-and-learn. We quad to tunes.
For funky lights and the full groove, check out our special events at Lansdowne !
---------
PLEASE READ BEFORE PURCHASING:
1. COVID-19 PROTOCOLS:
Mask optional
If you are unwell, do not attend.
Subject to revision should the restrictions become greater from Carleton University, national, provincial, or municipal requirements.
2. TICKET PURCHASE AND REFUND CONDITIONS:
YOUTH: Only legal parents/guardians can purchase for their own youths. (under 18 y.o.) You can not purchase a ticket for another person's youth. Youth need to wear a helmet while on skate(s). Youth under 13 y.o. must be directly supervised by an on skate adult.
ADULT: Purchase tickets ONLY for yourself. Each adult skater must purchase their own ticket, from a UNIQUE email and complete their own waiver.
RENTAL: Rentals purchased without admission are not valid.
SPECTATORS: Need admission as this includes the waiver for insurance purposes.
-> Any tickets not purchased according to these conditions will be cancelled and costs are the purchaser's responsibility.
-> Refunds will only be considered for COVID-related illness, if requested within 24 hours after the event (no exception on timeline).
-> Admissions and rentals are otherwise non-refundable, non-exchangeable, and non-transferable.
3. ADMISSIONS:
Admission is strictly online, through Eventbrite. No cash at the door, no other platforms authorized to sell tickets, nor resale.
Admission alone does not reserve skate rentals, be sure to book them as an add-on to your admission (see #4). If you have your own quads, or inlines you are welcome to wear those.
Group purchases are not available. Each member of the group must purchase their own ticket.
We will be running at a limited capacity. Book early. Eventbrite manages a wait list once sessions sell out; the last releases from the wait list will be ~2 days before the event.
4. BOOK RENTALS:
If needed, skate rentals must be booked as an add-on ticket
Skate rentals must be booked no later than 24 hours before the event (commonly Thurs. by 9pm) so that our volunteers can retrieve them from storage.
Rentals are approximately shoe sizes (no half sizes).
It is always advisable to bring a pair of thin and thick socks just in case as there are often no extras to swap sizes.
Please wear socks regardless!
5. KEEPING IT SAFE:
Head and limb protection is strongly recommended for all.
Youth skaters (<18 yo.) MUST wear head protection.
Safe Skating Code in effect (to be acknowledged when booking admission).
6. SKATE DATE:
Want to get serious about skating and attend all (or many) of the sessions? Be our Skate Date! Buy a pass and we'll make sure we save you a seat and make every skate after that a little sweeter.
This is for attendees who have their own skates. This is not an option that can be done if you need to rent skates.
We wanted to build the community and offer a bonus for folks who were coming out regularly and committed enough to have purchased their own wheels!
For $40 you buy access to a discount code for this season (May.-Aug.)to be used to buy adult tickets for yourself. Each session's ticket will only cost $8 and we will reserve a spot for you so you don't have to worry about us selling out for a Friday night!
Go the Skate Date event 23SummerDates.eventbrite. to purchase your code and then use THAT event (not this one) to buy your tickets for the nights you will attend during the season.
The code is only good through the end of August 2023 for regular sessions and will then expire.
7. ABOUT THE VENUE:
The Norm Fenn Gymnasium is located in Carleton Athletics' Ice House Building, off University Road
The gymnasium is a full-size basketball court (wooden floors).
There are no locker rooms, or coat check available to us.
Multiple bus routes will deliver you to Carleton U
! This year parking will be included in the Carleton lot free for Club attendees. Access HotSpotParking after 20:45 to register your vehicle from 20:45-23:15.

We are not responsible for any issue with transportation. Please contact Carleton.
ABOUT THE OTTAWA QUAD ROLLERSKATING CLUB:
We also go by the name of OQS (Ottawa Quad Session), the weekly events we put together.
We're volunteer-run, we're non-profit, we're fun-driven!
We run a year-long program of recreational roller skating for our membership and whoever wants to drop in for a spin. We quad weekly most Fridays and throw in a number of roller parties throughout the year for good measure (and fundraising!)
Levels and age doesn't matter. All are welcome.
No lessons, or instructions are available, but always lots of watch-and-learn and a Learners area to try things in.
What we do is only possible thanks to our beautiful volunteers (yellow shirt peeps). If you want to yellow shirt with us, please reach out: ottawaquadsession+YS@gmail.com to volunteer.
About the organizer
Ottawa Quad Rollerskating Club - Rollerskating for everyone!
DUE TO THE CURRENT PUBLIC HEALTH SITUATION IN OTTAWA, WE ARE SUSPENDING OUR COMMUNITY PROGRAMING UNTIL FURTHER NOTICE. STAY SAFE, EVERYONE. 
We are a not-for-profit community group  devoted to providing regular opportunties for recreational rollerskating in Ottawa. Our community programing runs year-round and inlcudes weekly indoor sessions and special events. Visit our website or follow Ottawa Quad Session on Facebook to keep abreast of new events and weekly skates! We are totally volunteer-run. If you want to get involved, drop us an email.  
email: ottawaquadesession@gmail.com
web: https://www.ottawaquadsession.wordpress.com
Fb: https://www.facebook.com/OttawaQuadSession