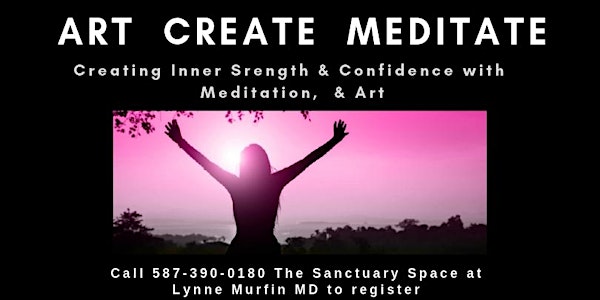 ART CREATE MEDITATE
When and where
Location
The Sanctuary Space # 280, 7015 Macleod Trail Calgary, AB T2H 2K6 Canada
Refund Policy
Contact the organizer to request a refund.
Eventbrite's fee is nonrefundable.
Description
ART ~ CREATE ~ MEDITATE
Creating Inner Strength and Confidence with Meditation, Yoga & Creative Expression
---
What are the 3 most destructive & demoting habits that rob us of inner strength and confidence?
3. Feeling we will be JUDGED by others so altering the way we act and things we say.
2. Constantly putting the needs of OTHERS AHEAD of our own.
1. Allowing our PAST life experiences to influence and RULE OUR PRESENT & FUTURE.
This is a reality for many and all of these feelings or afflictions have a profound thing in common: fear and self doubt. Many of these originate in childhood and we are unaware of how much of an impact they have in our daily lives.
In this Four-Part Series using Creative Expression, Yoga and Meditation we will; Uncover the traps that hold you back; Confront, accept and let go of the mechanisms we have used to cope in the world; Cultivate our inner strength and profound wisdom to remove fear from our lives; and Set goals and intentions for the life we have always wanted.
---
Certified Art Therapist, Kundalini Yoga Teacher and Integrative Body Psychotherapist Charmaine Husum, leads this powerful workshop series. Her approach to healing is Trauma Informed, Focusing Oriented, and Person Centered; believing that within every individual is the innate power to heal and overcome obstacles, experiences and injustices. Her classes are created as a safe, gentle space for you to explore your inner feelings and strengths at your own pace. A focus within these open groups is on building strengths rather than uncovering deep-rooted trauma, but all is welcome.

---
DATES: Wednesdays Sept 4, 11, 18 & 25, 2019
TIME: 6:30 – 9:00 pm
PLACE: The Sanctuary Space @ Dr. Lynne Murfin MD:
208- 7015 McLeod Trail SW, Calgary, AB
COST: $175 Full Series, $49 Drop-In
PREREGISTRAION IS REQUIRED Call 587-390-0180 to register

---
Weekly Schedule
WEDNESDAY September 4, 6:30 - 9 PM
THEME: Strengthening Our Voice, Identity and Self Esteem
ART THERAPY DIRECTIVE: Self Portraits using the Non-Dominant Hand
KUNDALINI YOGA: Kriya for Self Reliance
MEDITATION: Tantric Mul Mantra
In Our first workshop of this series we will be working with Mantra, Yoga and Creative Expression to uncover areas of our psyche that cloud us from walking strong and with confidence in the world. Within this weeks Art Directive we will be integrating the right and left hemispheres of the brain, allowing the unconscious beliefs that hold us back to arise and be seen so they may be transmuted and removed.
WEDNESDAY September 11, 6:30-9 PM
THEME: Overcoming What Others Think of Us: Finding Comfort in Crowds
ART THERAPY DIRECTIVE: Inside/ Outside Boxes
KUNDALINI YOGA: Strengthening the Magnetic Field
MEDITATION: Wahe Guru Kriya for Nervous Balance
What persona do I put out in the world and how is that different from what is inside? In this workshop we will be using collage images, art materials and boxes to explore how perceived judgment from others affects how we feel about ourselves. Through this directive we will work on acceptance of the self and the removal of our own judgments so we may walk with confidence without fear of not fitting in.
WEDNESDAY September 18, 6:30-9 PM
THEME: Moving Beyond the Unhealthy Habits that Hold Us Back
ART THERAPY DIRECTIVE: Drawing a Bridge

KUNDALINI YOGA: Kriya for Creating Self Love
MEDITATION: Meditation for Healing Addictions
As children, we intuitively develop coping strategies to protect our vulnerable psyches and to help us feel safe. However, we often keep these patterns into adulthood where they no longer serve us and instead create a barrier to us succeeding the way we want to. These ways of coping can develop into behavioural patterns or even physical habits that keep us stuck. It is by honouring these coping strategies without judgment and instead with gratitude that we may move beyond the need for them. When we are able to recognize their gifts and set them free, we too may be set free to live the full life we were meant to have.
WEDNESDAY Sept 25, 6:30-9 PM
THEME: The Past, The Present & Manifesting Our Deepest Future Desires
ART THERAPY DIRECTIVE: Hopes & Dreams Mobile Creation

KUNDALINI YOGA: Removing Body Blocks
MEDITATION: Meditation for Removing Fear of the Future
One of the most powerful and healing aspects of art therapy is that we take feelings and experiences that are within us and move them onto the paper or object in front of us. This helps gives a clearer perspective and also some distance from the emotional charge these feelings and experiences may hold. In this final workshop of our series, we will be looking at our past, present and future, setting goals and intentions, and taking inventory of how far we have come and the tools we have been gifted with to move beyond our past and into the magnificent beings we truly are.