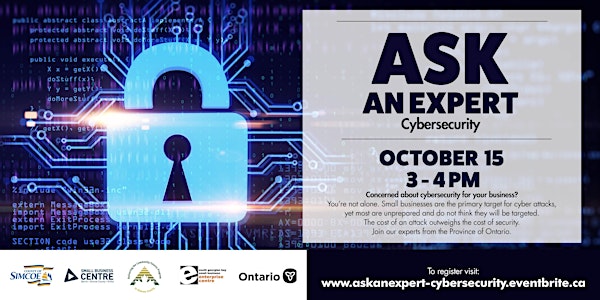 Ask an Expert: Cybersecurity
In one year, cyber attacks were reported in 69% of Canadian businesses. Learn how to plan for cybersecurity for your business.
About this event
Cybersecurity matters now, more than ever.
Concerned about cybersecurity for your business? You're not alone. Small businesses are the primary target for cyber attacks, yet most are unprepared and do not think they will be targeted. Over a 12-month period, 69% of Canadian businesses surveyed reported some kind of cyber attack, costing them approximately $5.3 million, or about $15,000 per attack. The cost of an attack outweighs the cost of security
With support from the Province of Ontario, learn from a panel of experts:
Why cybersecurity is important to SME's
How to do a Cybersecurity Assessment
About Cybersecurity governance
Technology and next steps
The Panel:
AJ Khan, CEO of CyberStrategiez Inc and over 13 years of experience in Cybersecurity Innovation and Emerging Technologies;
Carl Hayes, Partner & Vice President of Business Development for Stratejm, plus 12+ years of experience in architecting complex IT solutions; and
Sumit Bhatia – Director, Knowledge Mobilization and Communications with Rogers Cybersecure Catalyst and tech entrepreneur
There will be an opportunity for businesses to pose questions to the panel beforehand and during a Q&A session.
This session is part of the 'Ask an Expert' series presented in partnership with the Small Business Centre of Barrie, Simcoe County and Orillia, South Georgian Bay Small Business Enterprise Centre, Orillia Area Community Development Corporation, Nottawasaga Futures, North Simcoe Community Futures Development Corporation and the Centre for Business and Economic Development. For more information and to view recordings of previous sessions visit: www.simcoe.ca/askanexpert.