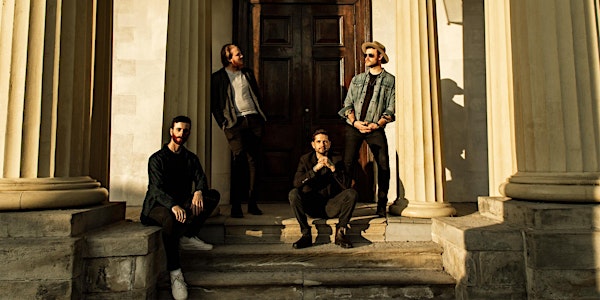 Supercrawl Presents Athanase — Live from Bridgeworks!
About this event
Athanase (pronounced ATH-an-ouse) is a modern folk-rock band out of Hamilton, Ontario. The band's moniker is Greek for "immortal" — fitting for a band that uses songs to tell stories that transcend generations. They gracefully bend genres, combining Americana, alternative, '50s rock n roll, and country to create an emotional yet energetic experience.
"We've been called 'modern folk', and I think that's because we put on a fun live show – like the energy from a 1950's rock n roll concert – while still keeping true to the elements we love from folk," says Athanase singer/songwriter Jason Baronette.
Their debut EP, Times Like These, garnered radio play and opportunities to play alongside Irish sensation Hermitage Green. Their second release, Between II Shores, featured the track "Wolves" which is as thought-provoking as it is rocking.
Immortal, the band's forthcoming 2021 EP, was recorded in part with Mickey Ellsworth (Walk Off The Earth, Ascot Royals) and mixed by Andrew Billone (Arkells, Golden Feather). The continued evolution of their sound can be largely attributed to the group's new rhythm section which features Zach Symak and Konrad Swierczek on drums and bass respectively. Baronette's poetically charged songwriting is perfectly juxtaposed with Sweet Jake Langstaff adding even grittier blues-rock guitar.
While their sound is unique, listen and you'll quickly find they do not hide their influences. Their sound can be attributed to their love of artists from Americana giants such as Jason Isbell, The Decemberists and Bright Eyes, to Canadian heroes The Tragically Hip, and even pop icon Taylor Swift.
Instagram | Facebook | Twitter | Spotify | Apple Music
•
Concert will be available for ticket holders to view on demand for 48 hours post-show.