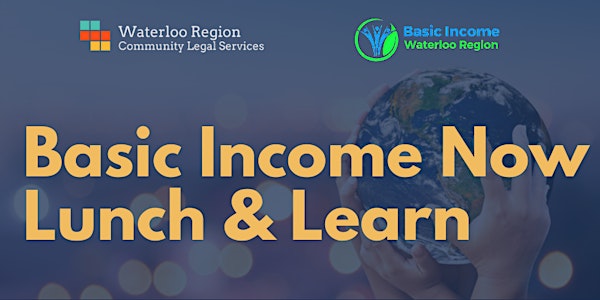 Basic Income Now Lunch & Learn
What is Basic Income? Learn about this program in preparation for the 2021 election.
About this event
Join Waterloo Region Community Legal Services & Basic Income Waterloo Region to learn about what Basic Income is. This lunch and learn session will also discuss the federal parties' platforms for this program with panelists Kristen Thompson, Caterina Lindman, Andrea Kauppinen & Carol Stalker.
About the panelists:
Kristen Thompson has been working at community legal clinics for over 12 years and had joined us at Waterloo Region Community Legal Services in 2019. Before entering law school, she had attended Wilfrid Laurier University. She now specializes in housing law, income maintenance (which includes Ontario Works, ODSP, CPP, etc.) and consumer protection.
Caterina Lindman has retired after a 35-year career as an actuary at Manulife Financial. She has a keen interest in many topics including climate change, the benefits of whole-food, plant-based nutrition, as well as Basic Income. Since retiring she has begun piano lessons, and enjoys volunteering with Citizens' Climate Lobby and serving as the Internal Relations coordinator for the Ontario Basic Income Network.
Andrea Kauppinen is a Registered Psychotherapist and has been active in the basic income movement, anti-poverty advocacy, and education in social class and classism. She joined Basic Income Waterloo Region in 2014. Her interests have been shaped by her experiences growing up in poverty.
Carol Stalker MSW, PhD, is Professor Emerita in the Faculty of Social Work at Wilfrid Laurier University. Prior to her academic career, she worked for 20 years as a social worker and psychotherapist in mental health settings and a child welfare agency. Since her retirement in 2015, she has been a member of the Basic Income Waterloo Region advocacy group and more recently, Coalition Canada: Basic income-Revenu de base.