Sales Have Ended
Registrations are closed
Registration for this event has closed. Please contact us @ CMCOntarioEvents@gmail.com
Sales Have Ended
Registrations are closed
Registration for this event has closed. Please contact us @ CMCOntarioEvents@gmail.com
This session provides tips and skills for self-empowerment to promote self-management optimization and, therefore, to thrive post change
About this Event
In the midst of the global pandemic, you and your clients adapt to different changes. Successful adjustment, which includes elements of change and stress management and, thus, self-management, is at the core of thriving during and beyond.
CMC-Ontario invites you to join us for the first of our monthly Digital series on Wednesday, February 10, 2021. Beyond Surviving to Thriving: Optimizing Personal & Professional Self-Management presented by Carolyn Hamilton-Kuby, CEC, PCC.
This session will discuss ways to effectively manage self-adjustment, and the anxiety surrounding it. The presentation is intended to provide tips and techniques for self-empowerment to promote self-management optimization and, therefore, to thrive in the 'new normal.'
Discussion Topics:
• Key Elements of Thriving
• 'In-Tense' Coach Approach Model
• Managing Personality Diversity
• Optimizing Self-Management
Presenter
Carolyn Hamilton-Kuby will be presenting from Kingston, Ontario, Canada. She is the Founder and CEO of Morningstar Center for Engagement and will be celebrating 20 years as an entrepreneur next year. Carolyn helps leaders, teams, and coaches maximize potential through Corporate Training, Executive and Mentor Coaching, and Motivational Speaking.
Along with her extensive leadership experience and background as a former Human Resources Professional, Carolyn is a Certified Executive Coach, a Professional Certified Coach, a Mentor Coach, a Thought Leader on Coaching Competencies, and a Top Facilitator with the World Business Executive Coach Summit.
Event Details
Who: Everyone is welcome from across Canada and beyond
Cost: Free to members and guests
Format: Online Interactive Zoom Presentation and Dialogue
Join us for an engaging lunch, brunch or breakfast session, depending where you are. It's a terrific opportunity to meet new people and socialize with your peers.
Login details will be provided after registration. We hope to see you there!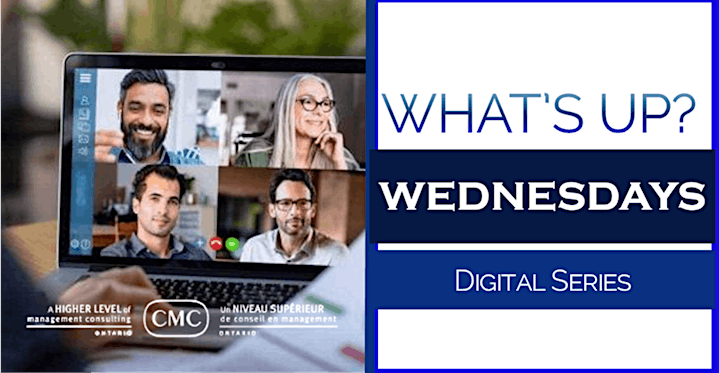 The Ontario Institute has a mandate to provide learning and networking opportunities to its membership. As part of our efforts in this area we are pleased to offer our WHAT'S UP WEDNESDAY SERIES crafted with consultants in mind.
On the second Wednesday of every month, we will hold, free sessions on areas of interest to the consulting community. Every event will be 1 hour long, beginning at 12:30PM Eastern time.
In order to create meaningful discussions on current issues, we will be inviting expert speakers and panels with diverse backgrounds and perspectives. We encourage everyone to show up and invite a guest to join the dialogue.
Coming soon to WHAT'S UP WEDNESDAY
• Mar 10 - Business Planning, Tools, Tips and Techniques with James Burgess from Focus 31
• April 14 – Future and Prediction for 2021, Dialogue with Nik Nanos
Mark your calendar and stay tuned for more great opportunities to engage!