Cet événement est terminé.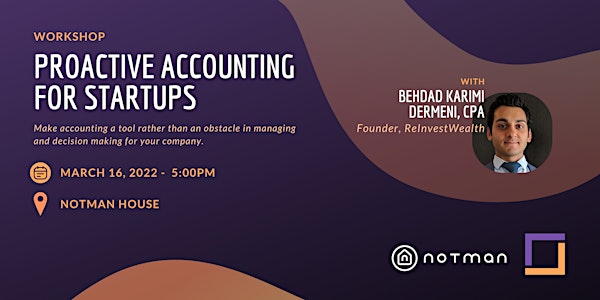 Proactive Accounting for Startups
Learn how to make accounting a tool rather than an obstacle in managing and decision making for your company with this free workshop!
Où et quand
Endroit
Notman House 51 Sherbrooke St O. Montreal, QC H2X 1X2 Canada
À propos de cet événement
(FRANÇAIS PLUS BAS)
Proactive accounting for startups
Are you an entrepreneur looking to improve your accounting skills to better run your business?
Do you want to use accounting to make better business decisions?
This in person workshop at Notman House is for you!
You will learn all you need to know to make accounting your ally rather than an obstacle in the daily management of your startup.
Ideal for :
Founders, CEOs or entrepreneurs who are currently starting or running a Canadian company.
What will you learn?
The complete structure of a Canadian corporation
How to quickly read Financial Statements
The deadlines and requirements for running a Canadian corporation
How to automate accounting tasks
How to make simple financial projections for your business
----
La comptabilité proactive pour les startups
Vous êtes un.e entrepreneur.e et vous souhaitez améliorer vos compétences en comptabilité pour mieux diriger votre société ?
Vous souhaitez utiliser la comptabilité pour prendre de meilleures décisions d'affaires ?
Cet atelier en personne à la Maison Notman est pour vous !
Vous apprendrez l'essentiel pour faire de la comptabilité votre allié plutôt qu'un obstacle dans la gestion quotidienne de votre startup.
Idéal pour :
Les fondateur.rices.s, PDG ou entrepreneurs qui démarrent ou dirigent actuellement une société canadienne.
Ce que vous allez apprendre :
La structure complète d'une société canadienne
Comment lire rapidement les états financiers
Les délais et les exigences pour gérer une société canadienne
Comment automatiser les tâches comptables
Comment faire des projections financières simples pour votre entreprise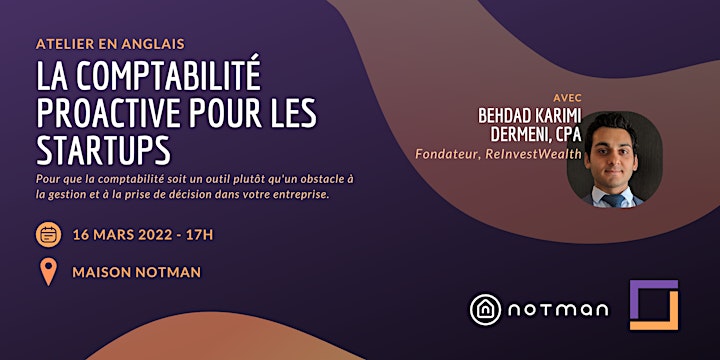 About ReInvestWealth
ReInvestWealth is an Accounting & Technology company founded in 2017 in Montreal, Canada. The founder and the speaker for this workshop, Behdad Karimi Dermeni is a CPA with over 10 years of experience in accounting
À propos de ReInvestWealth
ReInvestWealth est une entreprise de comptabilité et de technologie fondée en 2017 à Montréal, au Canada. Le fondateur et l'animateur de cet atelier, Behdad Karimi Dermeni est un CPA avec plus de 10 ans d'expérience.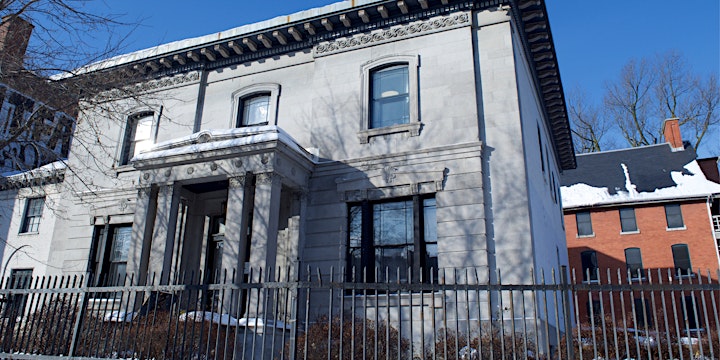 The Notman House
Notman House offers a vibrant and accessible environment that fosters collaboration and the transfer of knowledge and know-how between the various players in the Montreal startup community.
More than a technology campus, Notman is a third place, a strong anchor in its local community, which plays the role of a unique business hub, a unifying, prosperous and attractive living environment.
Access:
The workshop takes place in the Clark room on the 3rd floor of the Notman House (there is no elevator). To get there, enter the café and follow the signs.
La Maison Notman
La Maison Notman offre un milieu vibrant et accessible à tous qui favorise la collaboration ainsi que le transfert des connaissances et du savoir-faire entre les différents acteurs de la communauté de startups de Montréal.
Plus qu'un campus technologique, Notman est un tiers lieu, un point d'ancrage fort dans sa collectivité locale, qui joue le rôle de pôle d'affaires unique, de milieu de vie rassembleur, prospère et attractif.
Accès:
L'atelier a lieu dans la salle Clark au 3ème étage de la Maison Notman (il n'y a pas d'ascenseur). Pour y accéder entrez par le café et suivez la signalétique.