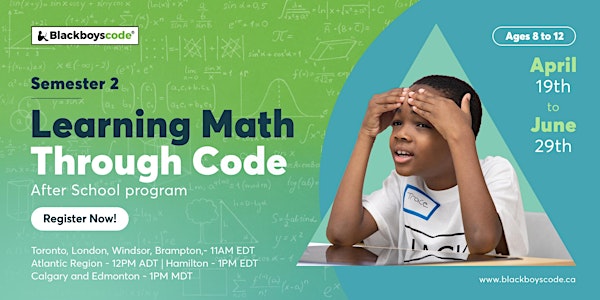 Black Boys Code Technology After School Program - Halifax
After school program for Black boys ages 10-14, allowing them to explore the world of computer science  & coding.Wed. April 19 -May 31
Date and time
Wed, Apr 19, 2023 5:00 PM - Wed, May 31, 2023 7:00 PM ADT
About this event
There's still space available for our Third Semester In our Afterschool Program!
Do you have a son between 10-14  that identifies as Black and has an interest in exploring the world of computer science and coding?  
Starting April 19, 2023, join us for our virtual after-school program. This program is proudly sponsored by TD Bank.
As a continuation of our Learning Math Through Code Summer Camp Program, this 6-week program will build on the core topics participants learned during the summer.
The online after school program will run every Wednesday from April 19, 2023 to May 31, 2023 from 5-7 pm your local time.
Didn't participate in our after school program? No problem, you can still join us.
Participants will be empowered to build their confidence and problem solving skills, all while gaining a deeper level of digital literacy!
Sign up today space is limited! 
About the organizer
Black Boys Code is an organization that introduces Black boys through their critical development years (ages 8 to 17) to computer science through exposure workshops, Hackathons, after school and summer programs. 
Our programs are aimed at boys of a young age to build capacity and skills in the STEM (Science, Technologies, Engineering and Math) fields with a focus on computer science.