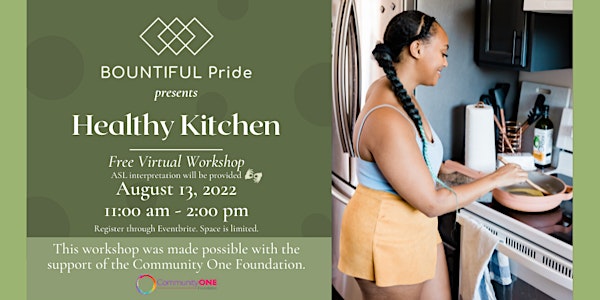 BOUNTIFUL Pride Healthy Kitchen Workshop
Are you Black, Queer or Trans, aged 30+ and dealing with poor eating habits caused by depression? Learn how to cope through this workshop.
About this event
Are you Black, Queer and/or Trans, and aged 30+? Are you dealing with poor eating habits and malnutrition caused by depression?
The BOUNTIFUL Pride Healthy Kitchen workshop will connect participants through a demonstration of low-effort, high-nutrition recipes, a conversation on depression-based malnutrition, and empowered discussion around self-care and self-advocacy in relation to food through an anti-diet culture and body-positive lens. The main intention of this workshop is to reject diet culture, destigmatize depression and other mental health needs, create a safe(r) space to discuss food issues and their relations to income status, mental health, and the pandemic.
BOUNTIFUL Pride adamantly rejects diet culture and my use of the term "healthy" is not based on any fat shaming systems, such as the Body-Mass Index, but rather the encouragement of self-acceptance and body positivity.
Each participant will receive meal kits with fresh ingredients to use during the workshop, as well as kitchen tool kits to ensure they have the instruments to succeed in improving their nutrition beyond the workshop.
This workshop is available only to registered folks who are ALL of the following:
Black-identified
Queer and/or Trans identified
Age 30 years and up
Reside within Toronto (Postal Code beginning with M)
Registration does not guarantee admission to the workshop. Each registration will be reviewed case by case with priority given to those who identify as Disabled, Mad, Crip, and/or Deaf and those who identify as having financial instability.
Package deliveries will take place on Friday, August 12, 2022.
The workshop will take place on Saturday, August 13, 2022.
ASL interpretation will be provided during the workshop.
**PLEASE NOTE:
In order to register and be considered for the workshop, you require the following:
Access to a stove and an oven. (Toaster ovens are not acceptable as they will not cook fast enough for the workshop time period)
Access to a steady internet connection.
To keep your camera on at all times.
You will need to provide a valid address and phone number for the grocery and kitchenware delivery.
Someone must be home in order to receive the delivery.
A small delivery window will be planned after being accepted for the workshop.
We will be observing Covid-19 safety guidelines through mask wearing, hand sanitization, and social distancing when delivering the groceries and kitchen tools. Please wear a mask to meet the BOUNTIFUL Pride volunteer for your items as we will not be entering any homes or apartment buildings.
This workshop aims to not only equip its participants with fresh ingredients and kitchen tools, but to also inspire them with confidence in navigating their own nutritional health in spite of food/income insecurities, depression-based loss of appetite, all while embracing self-acceptance and internalized compassion.
This program was made possible by funding from Community One Foundation.
**PLEASE NOTE:
This workshop does not offer any diagnosing of mental health conditions, physical conditions, or eating disorders.
This workshop is being prepared through a lived experience and community focused lens and not a medical intervention lens.
If you are in need of medical intervention please seek it through professional healthcare providers.