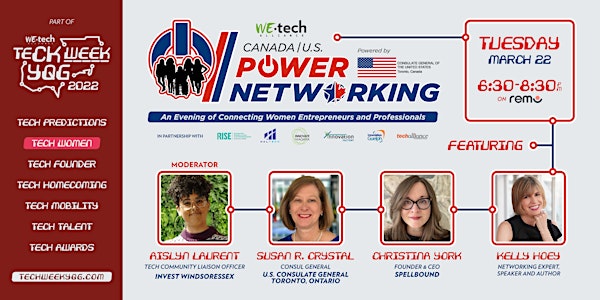 Canada / U.S. Power Networking
Join WEtech Alliance and partners for an evening of virtual networking designed to empower and connect women entrepreneurs & professionals.
About this event
Join WEtech Alliance and Southwestern Ontario Regional Innovation Centre partners for an evening virtual networking session designed to connect women entrepreneurs, leaders and business professionals to build international networks and connections and create innovative partnerships and solutions to help us continue moving forward together.
Utilizing Remo's innovative networking platform, we will be offering women entrepreneurs and professionals a casual and fun evening of networking facilitated by Networking Expert and Author, Kelly Hoey. Remo's web-video platform allows people to have face-to-face networking online just like in-person events that build meaningful relationships and conversations.
The event ill also features remarks by Consul General Susan R. Crystal, a fireside chat with Spellbound Founder and CEO, Christina York moderated by Aislyn Laurent.
The CAN/U.S. Power Panel program and Virtual Networking event are supported by the U.S. Consuls General in Canada's Building Back Better Program aimed at strengthening support for women entrepreneurs during COVID-19.
PROFESSIONAL DEVELOPMENT GIVEAWAY
In the spirit of building connections, event attendees of will have a chance to win1 of 20 Build Your Dream Network, a modern roadmap to building powerful connections.
SPEAKERS AND FACILITATORS
Consul General Susan R. Crystal, U.S. Consulate General Toronto, Canada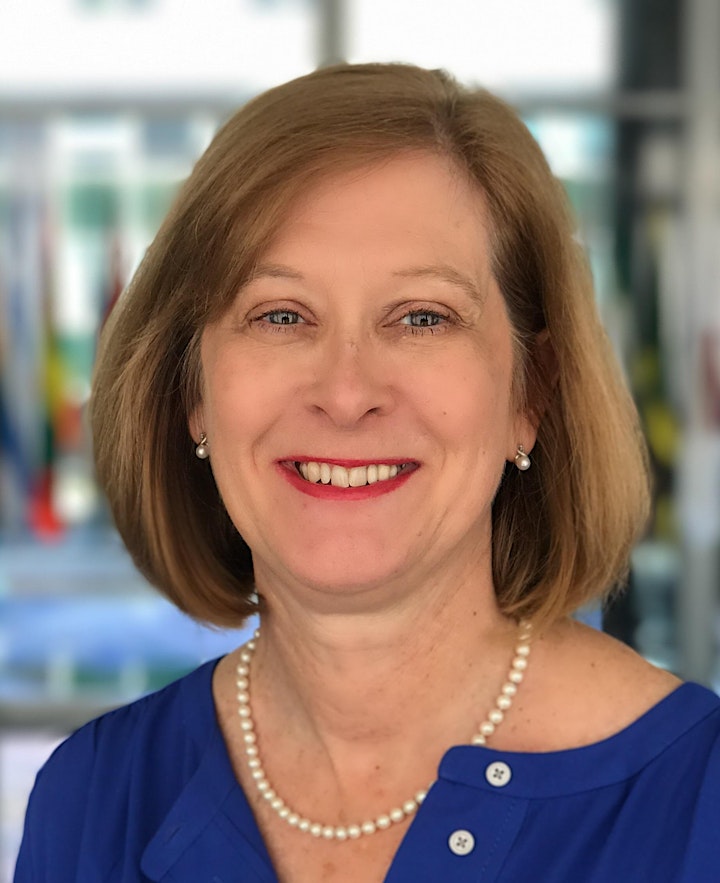 Prior to her arrival in Canada, CG Crystal was the Deputy Assistant Secretary for Professional and Cultural Exchanges in the U.S. Department of State's Bureau of Educational and Cultural Affairs (ECA). During her tenure as Deputy Assistant Secretary, she was responsible for overseeing a broad array of professional, youth, and cultural programs for U.S. and foreign audiences, where she placed a strong emphasis on mentoring, diversity, and inclusion, leadership coaching, and the importance of alumni interaction. Throughout her career with the Department of State, CG Crystal has had the pleasure to serve in Australia, Ecuador, Haiti, Mauritius, and South Africa as well as in Ottawa, Canada. CG Crystal is from Pittsburgh, Pennsylvania.
Christina York, Founder and CEO of SpellBound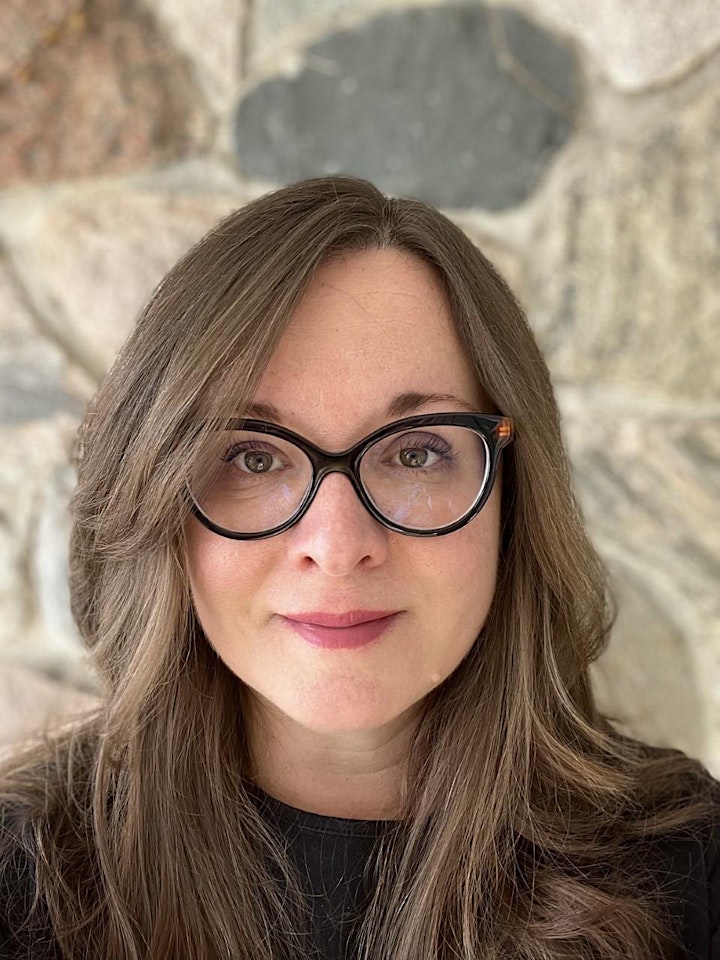 CEO and founder Christina York has been in the tech industry for 19 years, designing and building solutions for health care, higher education, and the not-for-profit tech industry. She is a User Experience designer and researcher by training with a master's degree in information science, specializing in information architecture and user experience research. Since starting SpellBound, Christina has been passionate about building a 3D technology talent pool in Ann Arbor and creating an environment that supports diversity and inclusion in technology.
Aislyn Laurent, Tech Community Liaison Officer (Moderator)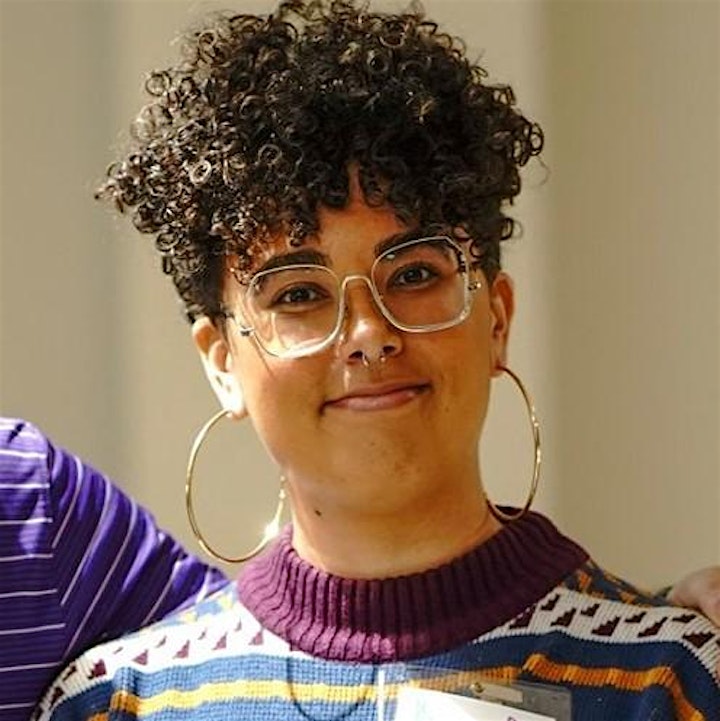 Aislyn is a Computer Science graduate from the University of Windsor with a passion for Bioinformatics and Computational Chemistry. She's a researcher, Windsor's Women Techmaker Ambassador, leader of Google's Developer Student Club, co-founder of BorderHacks, a quantum computing enthusiast and developer of scientific analytical software.
Kelly Hoey, Networking Expert, Speaker & Author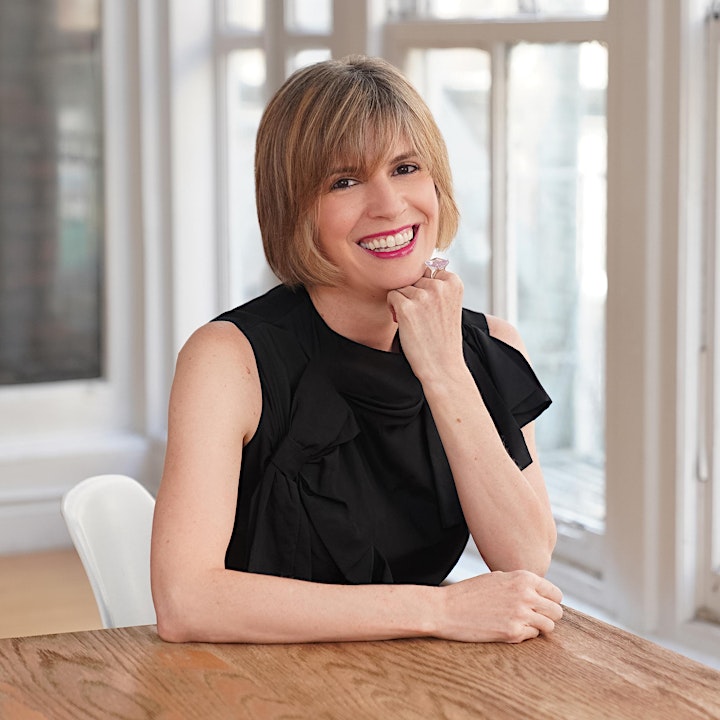 Networking expert, Kelly Hoey is the author of Build Your Dream Network: Forging Powerful Relationships In A Hyper-Connected World (Penguin Random House). She's working on her second book which focuses on the unique networks women need for career success. A speaker sought out for her networking insights, Kelly has been lauded from Forbes ("1 of 5 Women Changing the World of VC/Entrepreneurship") to Business Insider ("1 of the 100 Most Influential Tech Women On Twitter") and Inc. (1 of "10 Most Well-Connected People in New York City's Startup Scene"). Not bad for a former corporate lawyer from Toronto. Connect with Kelly via www.jkellyhoey.co.