Sales Have Ended
Registrations are closed
If for any reason you can't make it to the event after registering for it, please let us know so we can allow someone else to attend.
Sales Have Ended
Registrations are closed
If for any reason you can't make it to the event after registering for it, please let us know so we can allow someone else to attend.
Description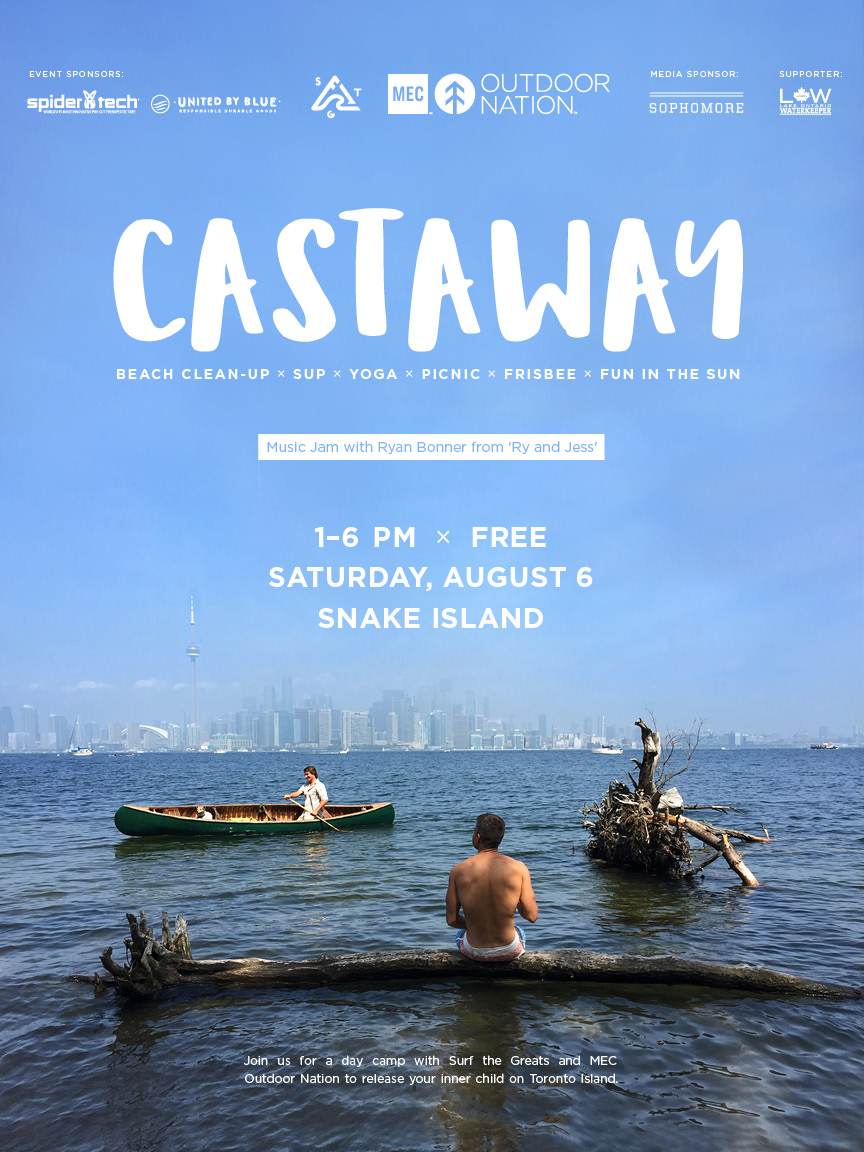 Surf the Greats and MEC Outdoor Nation invite you for an unforgettable day camp in TO Surf City. Join us for an afternoon of fun in the sun in one of the most well kept secret islands in Toronto. With our stunning city skyline in the background, we are going to disconnect from our urban lives and connect with our natural environment in a truly meaningful way.
The adventure starts with a boat ride to the island, leaving the hustle and bustle of the city behind. We will begin the day by giving back to our environment by rolling up our sleeves and doing a beach clean-up. After the clean up, you can play some Frisbee, take a Standup Paddleboarding lesson, have a picnic or just chill with your old and new friends on the beach.
Towards the end of the day, we will have an unplugged music jam lead by 'Ryan Bonner' from local surf band 'Ry and Jess'. If you play any portable music instrument, bring it with you and join in on this sing along session by the lake!
The adventure will end with an energizing and restorative Tidal Flow yoga session to make you come back to the city feeling like a million bucks! This Vinyasa flow was developed by Surf the Greats mixing traditional postures from Hatha Yoga, dynamic movements from Ginástica Natural, conditioning movements from surfing, as well as breathing and meditation techniques.

This event is free and limited to 100 participants. Each participant needs to register individually to receive a ticket that includes admission to the event, participation in all activities as well as a round-trip ferry or water taxi ride. Each ticket admits one participant only.
On Thursday, August 4, all participants registered for the event will receive an e-mail confirming their participation in the event. If we don't receive a response from you, your ticket will be revoked and assigned to someone else in our waitlist.
On Friday, August 5, you will receive an e-mail with a packing list, ferry or water taxi ticket, detailed schedule and all the details you need to know to attend the event.

This event will only happen if the weather conditions allow for a safe and pleasant experience. Surf the Greats and MEC reserve the right to reschedule or cancel the event.

Surf the Greats is an adventure and lifestyle company focused on delivering experiences to connect people to nature on the Great Lakes and beyond. Our services include SUP Safaris in and around Toronto, surf lessons all over the Great Lakes; yoga, meditation and physical conditioning classes at parks and beaches on the GTA, as well as international surf camps. We aim to build and nurture a sustainable and healthy community through the practice of surfing and Stand-Up Paddleboarding, while collaborating with other companies and organizations to promote engagement and preservation of our natural environment.
MEC is a retail co-operative established in 1971. We exist to inspire and enable everyone to lead active outdoor lifestyles. We do that by selling outdoor gear, clothing, and services. To buy gear at MEC, you must be a member of the Co-op. A lifetime individual membership is $5, same as it was in 1971.
MEC Outdoor Nation breaks down barriers to getting outside because. Through stellar events, funding and a bustling online community, we get people stoked on new ways of getting outside and making share-worthy things happen.

SpiderTech provides consumers with easy to use Pre-Cut Kinesiology Tape Applications. SpiderTech can be applied anywhere on the body - Stick it where it hurts!
United by Blue is an ocean-friendly brand of apparel that removes a pound of trash from oceans and waterways for every product sold.

Sophomore is a video production company founded by two 'non-trepreneurs' specializing in digital stories and documentary-style content.

Lake Ontario Waterkeeper is a Canadian charity working for a day when every person in our watershed can safely touch the water, when the water is pure enough to drink, and when the lake is clean and wild enough that you could toss in a line anywhere and pull out a fish.

In order to participate in this event, you must be 19 years or old. Every participant needs to sign a waiver during our registration process. If you are 19 years old or younger, you may attend in the presence of a legal guardian. Please contact us at aloha@surfthegreats.org, and we can arrange for your participation on a per case basis.
By getting my ticket and signing up, I acknowledge that my participation to the Surf the Great's Event Castaway is entirely voluntary. I admit that I am solely responsible for determining whether my sport abilities and health status allow me to safely participate in the activities at the event, including but not limited to yoga, standup paddle boarding, frisbee, and beach clean-up. Accordingly, I will participate to this event within the limits of my sport abilities and will exercise in such a way that won't represent any health hazard or risk to me. I acknowledge that Surf the Greats and its sponsors are in no way liable for any injury, illness and/or any other problem I may have as a result of participating to the Castaway Event.
Also, by accepting this release I hereby give Surf the Greats, Mountain Equipment Co-op (MEC) and the official event sponsors my permission to use my photo an my likeness in photos and videos and to use them in any media for any purpose (except pornographic or defamatory) which may include, among others, advertising, promotion, marketing and packaging for any product or service. I agree that this content may be combined with other images, text, graphics, film, audio, audiovisual works; and may be cropped, altered or modified. I agree that I have no rights on the photos and videos, and all rights belong to Surf the Greats and MEC. I acknowledge and agree that I have no further right to additional consideration or accounting, and that I will make no further claim for any reason to Surf the Greats and MEC.