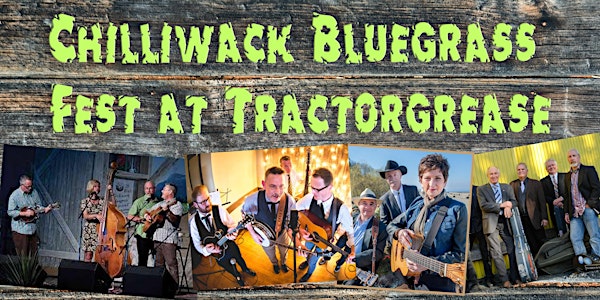 Chilliwack Bluegrass Festival at Tractorgrease
When and where
Location
Tractorgrease Café 48710 Chilliwack Lake Road Chilliwack, BC V4Z 1A6 Canada
Refund Policy
Refunds up to 7 days before event
Description
Bringing yet another Tractorgrease day Fest on September 8th 2018! This time we've put together our best bluegrass performers and lined up a day with 4 different bands and a family friendly Slow Jam Session at 2PM. Video links in description below!
Slow Pitch Jam
Started in 1996 by Sue Malcolm and Bob Underhill, the Slow Pitch Jam is a unique opportunity for beginners to learn the basics of jamming. A structured setting, patient and knowledgeable leaders and safety in numbers is a perfect way for beginners to experience the sheer joy of making music in a group. So bring Your string insturment and Join In!
Our line up
Lonesome Town Painters
The Lonesome Town Painters are Vancouver's traditional bluegrass standard-bearers. Having gravitated toward each other in late-night local jam sessions, and by way of their mutual adoration for the Stanley Brothers, these fellas harken back to the raw and ragged edge of the genre. Their high-lonesome harmony singing and melodic instrumentation pay homage to bluegrass pioneers, while their spirited performances kick the dust off of golden-era favourites, and bristle with emotional honesty.
https://www.youtube.com/watch?v=PdXYzuVi_bk
Story House
Story House is made up of four musicians who have been active in the Pacific Northwest bluegrass scene for a good long time.

The members of Story House have played everything from folky singer-songwriter stuff to rock and roll, jazz, country and twin-fiddle Bill Monroe bluegrass.


The band features mainly original songs and tunes, mixed with covers of great songs both old and new.

Though all four members of the band sing, Jake & Maiken's arresting duet singing is the cornerstone of the band's vocal sound.
https://soundcloud.com/story-house/the-long-journey16
Sue Malcolm and Soda Crackers
These three long-time musical cohorts serve up a menu of music steeped in rootsy rhythms, panfried in traditional country, then stewed in a gumbo of bluegrass, jazz and western swing.
Murfitt and Main
Murfitt & Main plumb the depths of country and bluegrass, playing hand crafted songs steeped in the tradition of roots music. Their original songs possess a clarity rooted in musical traditions of rural America, in a contemporary voice. Listeners are drawn in by sweet harmonies and high, lonesome country sounds.
Five on a String
5 on a String has been picking and singing bluegrass music all around the Pacific Northwest for over twenty-five years. We have a family friendly show with plenty of hot picking and fiddle tunes to entertain just about any audience. Seniors love the old time theme and harmony singing, and the kids are attracted to the staccato sounds of the banjo and fiddle. All of our instruments are acoustic which means we are able to play without electricity and can roam over a festival site to draw attention to vendor areas or entertain people waiting in lines. We are equally at home on main stage venues, we play and sing in the old time radio show style, using only one microphone, which is also great for "tweeners" while a stage is being reset for a larger act. Over the years we have collected a large volume of performance material and can play for more than four hours without repeating a song. We'll get their toes tapping and hands clapping…Guaranteed.