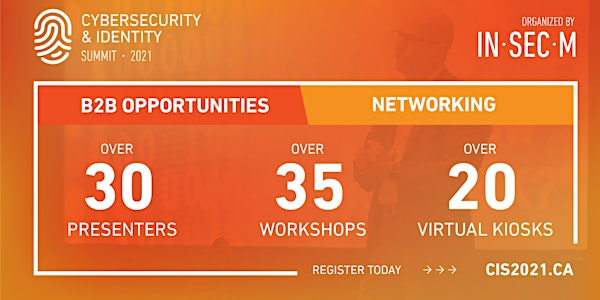 CIS2021
We connect people, technology and opportunity. / Nous créons des liens entre les personnes, la technologie et les opportunités.
Refund Policy
Contact the organizer to request a refund.
Eventbrite's fee is nonrefundable.
About this event
The Cybersecurity & Identity Summit (CIS) is an essential event for the Technology industry, providing leading-edge insight on cyber risk prevention and digital identity management. CIS is a forum designed to encourage business leaders and government policymakers to share ideas and concerns about cybersecurity, digital identity, and data protection with industry experts.
Le Sommet sur la Cybersécurité et l'identité (SCI) est un événement essentiel pour l'industrie de la technologie, offrant des informations de pointe sur la prévention des cyber risques et la gestion de l'identité numérique. Le SCI est un forum conçu pour encourager les chefs d'entreprise et les décid-eurs gouvernementaux à partager des idées et des préoccupations concernant la cybersécurité, l'identité numérique et la protection des données avec des experts du secteur.
SCHEDULE / HORAIRE
Day 1
8:30 - 9:00 - Pre-Event Previews / aperçus avant l'événement
9:00 - 9:15 - Opening Speech / discours d'ouverture
9:15 -10:00 - Welcoming Words / mot de bienvenue
10:00 - 10:20 - Keynote Presentation / Présentation du conférencier principal
10:20 - 10:45 - Networking Break / pause réseautage
10:45 - 11:30 - Panel Discussion / Panélistes
11:30 - 12:00 - Roundtable with Speakers / Table ronde avec conférenciers
16:00- 18:00-Netwoking
Day2
8:30 - 9:00 - Pre-Event Previews / aperçus avant l'événement
9:00 - 11:50 - 7 Sponsor Solution Presentations / 7 présentations de solutions des commanditaires
Day 3
8:30 - 9:00 - Pre-Event Previews / aperçus avant l'événement8:3045
9:00 - 11:50 Sponsor Solution Presentations + International Market Opportunities / Présentations de solutions de sponsors + opportunités de marché international
Day 4
8:30am -12:00 noon - 30 + Workshops
Day 5
8:30 - 9:00 - Pre-Event Previews / aperçus avant l'événement
9:00 - 11:20 - Government Opportunity Workshop / Atelier sur les opportunités gouvernementales
11:20 - 11:50 - Closing Keynote / discours de clôture