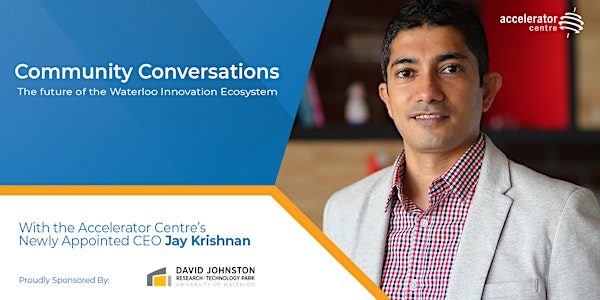 Community Conversations with Accelerator Centre CEO Jay Krishnan
Join us for a fireside chat with globally successful entrepreneur and innovation community builder, Jay Krishnan.
Date and time
Tue, Apr 6, 2021 7:00 AM - 8:30 AM PDT
About this event
Jay Krishnan joined the AC as CEO in March of 2021 with an eye towards increasing the organization's global impact and raising the profile of Canadian tech.
Jay believes strong innovation ecosystems need three things - diversity, density and momentum – and Waterloo has all three in spades.
Leveraging the AC's track record of excellence and his global entrepreneurial experience, Jay is looking forward to working with the community to drive innovation, foster entrepreneurship and launch Waterloo - and its innovators - to the forefront of the global stage. Our Community Conversations event is your opportunity to connect with Jay, learn more about him, and have a conversation about the future of innovation and entrepreneurship in Waterloo.
Take a front row seat as we shape the future of Canadian tech, together.
Agenda
10:00 a.m. – 10:30 a.m. | Formal Presentation from Jay on his vision for the AC and the Waterloo Innovation Community
10:30 a.m. – 11:30 a.m. | Fireside chat with key ecosystem partners and a moderated Q&A
Questions?
For more information, please contact Tabatha Laverty, tlaverty@acceleratorcentre.com.
Special thanks to the David Johnston Research and Technology Park for making this special event possible!
"In addition to being an entrepreneurial powerhouse, Canada has always been a bastion of cultural and libertarian values — and Waterloo, a hotbed of innovation. Waterloo is unique in that the city boasts of key ingredients needed to build a world class ecosystem - diversity, density, and momentum. I am thrilled to be able to play a role in shaping the next journey that Waterloo and Canada will play in building out a new future and changing the world."
- Jay Krishnan, CEO, Accelerator Centre
About Jay:
Jay Krishnan is a globally successful entrepreneur, investor, an innovation ecosystem builder, and Chief Executive Officer of the Accelerator Centre. An executive leader with over 20 years of experience, Jay boasts an impressive resume of international success. With experience spanning the venture capital space, entrepreneurship and product development and management, Jay knows firsthand what it takes to turn a good idea into a great one and to grow a company from a startup to a globally competitive business. Having been involved in the founding stages of 3 startups himself, he has experienced the full startup lifecycle - from failure to success- spanning seeding, raising capital, scaling and exit; with one company ultimately acquired by a multi-national conglomerate.
Prior to his entrepreneurial journey, Jay donned product management and product engineering hats at global multinationals including Cisco, Juniper and Cantata- Dialogic/ Intel in the US and India. Jay has a keen business acumen, a passion for working with innovative entrepreneurs, and desire to build thriving innovation communities.
Before joining the AC, Jay was a General Partner at Mantra Capital, an early-stage US-domiciled VC firm. Prior to Mantra, Jay was the first CEO at T-Hub, India's largest startup incubation & accelerator center. As a testament to Jay's visionary leadership, he is the recipient of numerous international awards and publications that include CleanTech Open, ICSPAT, TechConnect, Make a Difference, StartMeUp and Red Herring.
Jay earned his Executive General Management from The Indian Institute of Management (IIMB, Bangalore, India), his Bachelors in Electrical Engineering from Bangalore University (Bangalore, India) and a Masters in Electrical Engineering from the University of Hartford (Connecticut, USA).
Personally, Jay is a self-described "nerd" and spends time building products and experimenting with social mathematical models. Jay is also an avid reader - reading 3-4 books per month. He has a passion for travel having explored the fast-disappearing glaciers that meet rainforests in the southern hemisphere. He's hoping to do the same in the Northern hemisphere by exploring Canada's little-known secret- Kluane National park. He's also a sports fan rooting for the Celtics and Raptors.
About the organizer
The Accelerator Centre is an award-winning startup accelerator dedicated to building and scaling sustainable, globally competitive companies and giving startups the highest probability of long-term success. We are ranked the #1 private business accelerator in Canada and are among the World Top 5 due, in part, to our reputation for meaningful, one-to-one mentorship and helping entrepreneurs go from the idea stage to high-growth enterprises.