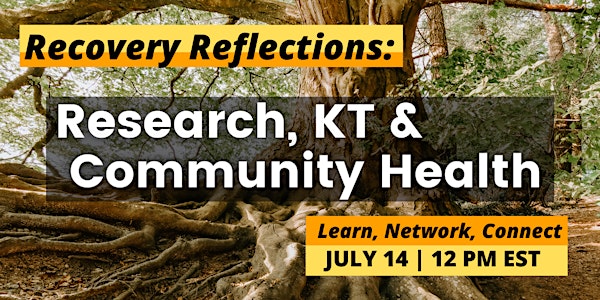 COVID Recovery Reflections: Grassroots Knowledge Exchanges
As we enter the next phase of the pandemic response and prepare for re-openings, what does recovery look like?
About this event
Join us for a reflection series for public health leaders and researchers to connect, reflect, and vision together as we emerge from the pandemic.
Each session conversation will be focused around a different theme, and co-hosted by our research team and a community-based expert. We will provide their brief insights for 10 mins and then host a 20 min discussion. Participants are encouraged to bring reflections, and share strategies or opportunities from their organizations.
Session Dates & Themes:
Harnessing Research for Community-led Systems Change
August Date & Time TBD
How do we move research into practice? It begins with investing in relationships. Joins us as we discuss how research projects can power systems change when designed intentionally with the right stakeholders around the table.
Community Expert - public policy thought leader and actively engaged in policy shaping work in nonprofit/community
Research Expert - Dr. Lorie Donelle - research & relationship building with e-health project
Through this conversation we will unpack how leaders can navigate systems-level forces impacting community health services across Canada. To do this work well, we know we must connect with a cross-sector network stakeholders to address these challenges. We hope these conversations will support co-creating collaborative research and advocacy agendas as we navigate the unfolding pandemic and move into recovery response.
Past Sessions:
Mobilizing research within community organizations
Wednesday July 14th @`12 PM EST
Join us to discuss how organizations have partnered with researchers during COVID-19, and how these collaborations can continue to strategically support community health outcomes moving forward.
Dr. Anita Kothari, Professor, Western University ~ Anita specializes in supporting community-based organizations use evidence, partnerships, and networks to strategically support their work.
Anjum Sultana, National Director of Public Policy & Strategic Communications at YWCA Canada ~ Anjum is the primary author and operations lead for 'A Feminist Economic Recovery Plan: Making the Economy Work for Everyone', the first nationally-focused recovery plan of its kind.
Compassionate Conversations with Youth Audiences
Wednesday June 16th @ 12PM EST
How are organizations increasing vaccine confidence in young people? Let's share strategies for communicating with Gen Z audiences.
Researcher Perspectives: Sarah Ashfield is a nurse practitioner practicing in primary care for the past twelve years. She completed her Masters of Science in Nursing at York University in 2010, and is a full time PhD student at the University of Western Ontario with a research focus on vaccine hesitancy, online vaccine information seeking, digital health literacy, and vaccine decision making. She continues to practice in primary care and participates in the COVID19 response at COVID assessment centres and vaccine clinics.
Community Perspectives: Samanta Krishnapillai, Founder of the On Canada Project, which has organically grown an instagram audience of over 85k followers over the last year through sharing compassionate COVID-19 messaging -- all designed by a team of over 150 youth volunteers. This for-youth, by-youth project shares their top learnings and hosts a conversation for public health leaders.
Keep learning with us:
We spoke with 40 community health leaders from nonprofits, patient advocacy groups, and community health centres about how they pivoted operations overnight to meet the needs of the pandemic, and are still disseminating evolving public health messages to our most vulnerable communities. We share our preliminary findings on our blog.