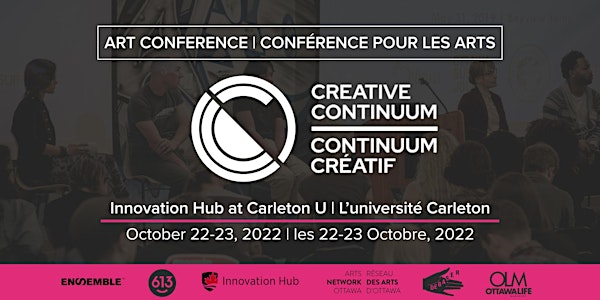 Creative Continuum 22: "I.R.L | en réalité"
Connect with industry professionals from various sectors and disciplines through two days of workshops, panels, and networking experiences.
When and where
Location
Innovation Hub @ Carleton University 1125 Colonel By Drive 7007 Nicol Building Ottawa, ON K1S 5B6 Canada
Refund Policy
Contact the organizer to request a refund.
Eventbrite's fee is nonrefundable.
About this event
Navigating a career in the arts: I.R.L.
Today, we are inundated with countless tools, platforms, strategies to produce and share creative work in virtual spaces. COVID-19 and its aftermath continue to emphasize the need for digital engagement, introducing artists and audiences to new ways of experiencing and interacting with art, and importantly: globalized opportunities for exposure and monetization. However, equaling these impacts and opportunities is a loss of connection, community, and intimacy behind the experience of creative work.
Creative Contiuum 22: "IRL | en réalité" invites you ask - what does it mean now to create art in real life? Connect with industry professionals from various sectors and disciplines through two days of interactive workshops, panels, and networking experiences. Aiming to provide insight & hands on learning tools through various lenses throughout the creative sector, with a proper understanding of how to apply the virtual world and all its benefits to enrich the real-life experience.
•Explore the human-ness behind professional personas and influencers
•Hear from young artists about navigating and adapting to contemporary sector crises
•Is techno-feudalism a fun new music genre? Probably not
------------------------------------------------------
S'orienter vers une carrière dans les arts : I.R.L.
Aujourd'hui, nous sommes inondés d'innombrables outils, plateformes et stratégies pour produire et partager des œuvres créatives dans des espaces virtuels. COVID-19 et ses suites continuent d'insister sur la nécessité de l'engagement numérique, en présentant aux artistes et au public de nouvelles façons de vivre et d'interagir avec l'art, et surtout : des opportunités mondialisées d'exposition et de monétisation. Cependant, ces impacts et ces opportunités s'accompagnent d'une perte de connexion, de communauté et d'intimité derrière l'expérience du travail créatif.
Creative Contiuum 22 : "IRL | en réalité" vous invite à vous demander ce que cela signifie aujourd'hui de créer de l'art dans la vie réelle. Entrez en contact avec des professionnels de l'industrie de divers secteurs et disciplines grâce à deux jours d'ateliers interactifs, de panels et d'expériences de réseautage. L'objectif est de fournir un aperçu et des outils d'apprentissage pratiques à travers différents objectifs dans le secteur de la création, avec une bonne compréhension de la façon d'appliquer le monde virtuel et tous ses avantages pour enrichir l'expérience de la vie réelle.
-Explorer l'aspect humain derrière les personnalités professionnelles et les influenceurs.
-Écoutez les jeunes artistes sur la façon de naviguer et de s'adapter aux crises contemporaines du secteur.
-Le techno-féodalisme est-il un nouveau genre musical amusant ? Probablement pas.