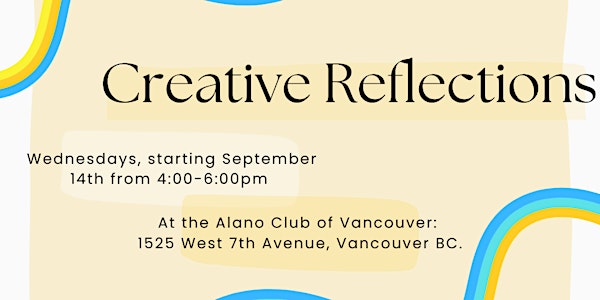 Creative Reflections - Arts-based Open Studio for Recovery
Drop in Arts-based Open Studio for creation & healing in recovery. No art experience necessary, just willingness to connect in new ways.
When and where
Location
1525 W 7th Ave 1525 West 7th Avenue Vancouver, BC V6J 1S1 Canada
About this event
*Creative Reflections will be taking a 4-week break from December 21 to January 11. We will be returning on January 18th!*
Join us for an Arts-Based Open Studio for connection, creation and healing. Each week we will be using the Daily Reflections book to spark inspiration for our theme and art directive. There is no art experience necessary in order to join, just a willingness to connect in new ways! Come to the full open studio time, or as much or as little as you'd like. Art materials will be provided and beverages and light snacks will be available for purchase on site.
This event is hosted by Alison Cutajar - an art therapy intern from the Kutenai Art Therapy Institute, at the Vancouver Alano Club which is a space to pursue the journey to recovery from addiction. There is no accumulated time in sobriety required in order to join the group.
This group runs as a drop-in open-studio, meaning there is no need to sign up in advance in order to come, nor is there pressure to arrive directly on time if you are unable to. Feel free to join when you can!
If you have any questions, feel free to contact the facilitator Alison Cutajar at: acutajar@kutenaiarttherapy.com
What is Art Therapy?
Art Therapy used art-making to deepen the healing journey. It gives us the opportunity to express ourselves non-verbally, when we don't have the words to fit our experience. Art Therapy can connect through creativity, connection and play.
Do I need art experience?
Whether you have been creating art your whole life, or have never thought of yourself as artistic, you already hold the skills you need in order to participate. The only thing you need is a willingness to show up and try something new.
What should I expect?
As an open studio, you can expect to have the time and space to connect with yourself in an artistic way, as well as with others in the community. The space can look like whatever you need - whether it be time for you to be social and creative with others, or a time for you to reflect with yourself.
How will we use the Daily Reflections book?
Every week, we will read the reflection that coincides with that day, as inspiration for art-making. There will be artistic prompts shared as well as the opportunity to take it in any way you would like.