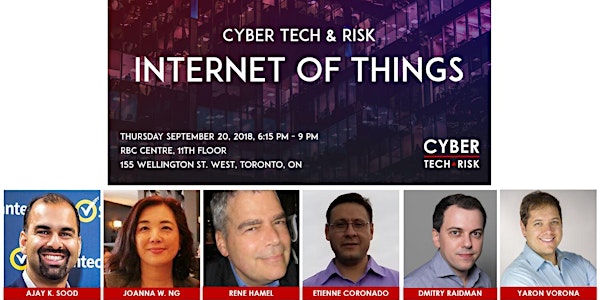 Cyber Tech & Risk - IoT
When and where
Location
RBC Centre 11th floor, 155 Wellington Street West Toronto, ON M5V 3H6 Canada
Description
About the Event
With the fast growth of IoT (Internet of Things), we are now using countless so-called smart devices: smart thermostats, smart cameras, smart TVs, smart watches, smart bands...The industry estimates the number of IoT devices will reach 31 billion globally by 2020. What will your life look like in the world of connected things powered by machine intelligence? What does it mean to your security and privacy? Are these smart devices smart enough to protect us from hackers?
Cyber Tech & Risk is proud to bring you a high-demand "Internet of Things" event in RBC Centre on September 20 (6:15 PM - 9 PM)!
Agenda
6:15 PM – 6:40 PM – Registration, Dinner, and Networking

6:40 PM – 8:40 PM – Presentations and Panel Discussion

8:40 PM – 9:00 PM – Networking
Featured Speakers

1. Ajay K. Sood, VP, General Manager, Symantec Canada

Ajay Sood currently serves as the VP and General Manager for Symantec Canada where he is on a mission to evangelize the importance for entities to stay ahead of the curve when it comes to architecting and operating their cyber security defenses. With over 20 years of real-life, in-the-trenches business experience in the IT security space, Ajay is a seasoned veteran when it comes to introducing disruptive security brands to the Canadian market. He has held key influential positions at world-renowned IT companies such as Trend Micro, Cisco, McAfee and FireEye.
2. Joanna W. Ng, Founder of Devarim Design, Former IBM Cognitive IoT Strategy & Innovation Chair


Joanna Ng is the founder of Devarim Design, a tech-company that brings a unique user experience via artificial intelligence, IoT, and Blockchain. Joanna was the Cognitive Internet of Things, Strategy and Innovation Chair with IBM Watson, and worked as the Head of Research, Director of Center for Advanced Studies for IBM Canada. She has been granted 43 patents (with 12 additional filed awaiting for the grant) and attained the accreditation of IBM Master Inventor. Joanna is also the author of two books on computer science: "Smart Internet" (2010) and "Personal Web" (2013), plus over twenty academic papers.
3. Panel Discussion - IoT and Cybersecurity
Rene Hamel, Director, Forensics & E-Discovery, Telus

René Hamel is the Director of Forensics & E-Discovery at Telus. His forensic career spans over nineteen years. He has played a key role in numerous civil and criminal investigations. His broad range of practice includes the Royal Canadian Mounted Police("RCMP"), the banking industry as well as consulting within mid and large range accounting firms in Canada, Europe and South East Asia. His international experience provides him with a very unique understanding of multi-jurisdictional digital evidence protocols.


Etienne Coronado, IoT Security Architect, Bell

Etienne Coronado is the security architect at Bell for developing security solutions for IoT services. He holds a Ph.D. from the Université de Sherbrooke. His research work was focused on wireless security for vehicular ad hoc networks. Etienne has also worked as a consultant in the integration of the smart meters pilot project in Hydro-Québec. His professional interests are related to big data and machine learning techniques on cybersecurity.
Dmitry Raidman, CEO & Co-Founder, Cybeats

Dmitry Raidman is a co-founder and CEO of Cybeats who works with IoT device makers to improve the security posture of their produced IoT devices in Smart Buildings, Critical Infrastructure, Industrial and Medical IoT Markets. Dmitry has 17 years of DevSecOps experience, managing, building and automating secure production systems for global fortune 100 companies.
Yaron Vorona, Founder, Deep Defence, CEO & Co-Founder, Iota Security

Yaron Vorona is a true entrepreneur, innovator, and strategist. His rich industry experience includes the founder and CEO of several successful tech startups, Entrepreneur in Residence for Singularity University, and Director of Strategic Alliances for the Institute for the Analysis of Global Security etc. Yaron holds the MBA from London Business School. He has been interviewed by CNBC, BNN, Reuters, New York Times, Washington Times, Washington Independent, NPR Radio and E&E News.


Lead Sponsors



Royal Bank of Canada (https://www.rbc.com)


Event Sponsors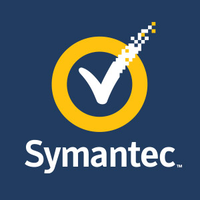 Symantec Canada (http://symantec.ca)
Food/Drink
Complimentary food and drink will be provided at the event.
Keywords
#IoT, #InternetOfThings, #Cybersecurity, #CyberTechRisk
Refund policy: Tickets are non-refundable.
Disclaimer: By signing up for this event, you agree that the organizers may record or photograph the event, (including you, your likeness, voice and any guest you bring), and use it publicly or privately in any form of media, including for commercial purposes. By attending, you consent to the recording and photographing and grant the organizers an unrestricted, perpetual, non-exclusive and sublicensable license, to take, use, display, perform, or distribute for any lawful and commercial purpose any recordings or photographs.