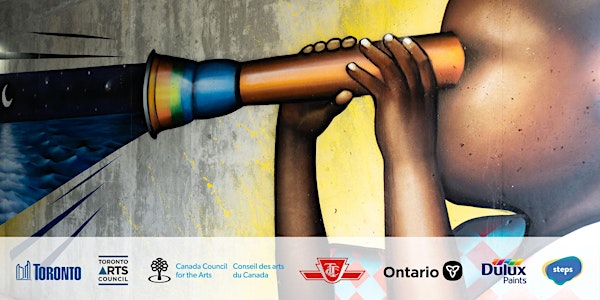 Daily Migration Mural Project: Virtual Community Workshop
Daily Migration is a community-engaged public art project sharing stories of movement across urban spaces and nature.
About this event
The Daily Migration mural will be expanding at the south entrance of Wilson TTC Station in 2022 and we'd love to hear from you!
Internationally-known Artist, Shalak Attack and STEPS Public Art present a series of community arts workshops – building social connection and artmaking skills while exploring themes of migration by sharing our stories of arrival and departure, home and longing.
Since 2020, Shalak has worked alongside community participants who identify as newcomers in building the Daily Migration mural story. Learn more about the project's creative process through the Daily Migration Art Tour on the STEPS Public Art App.
Help shape the final mural design into an artwork that is truly reflective of your community by sharing your feedback, ideas, personal stories, and local community knowledge.
WORKSHOP DETAILS
Join us for an interactive and participatory virtual art-making session led by Shalak Attack with the support from STEPS.
Date: Saturday, July 9, 2022 from 2 PM to 3:30 PM EDT
There are more Daily Migration Community Arts Workshops - click here to sign up for more!
Accessibility Notice
The Daily Migration project team is committed to the community's full participation for this project. Please indicate any support you require during registration or contact ima@stepspublicart.org for more information.
Daily Migration is made possible with the support of StreetARToronto, a program by the City of Toronto, Toronto Arts Council, Canada Council for the Arts, Toronto Transit Commission (TTC), Councillor James Pasternak, funding by the Government of Ontario, and Dulux Paints.