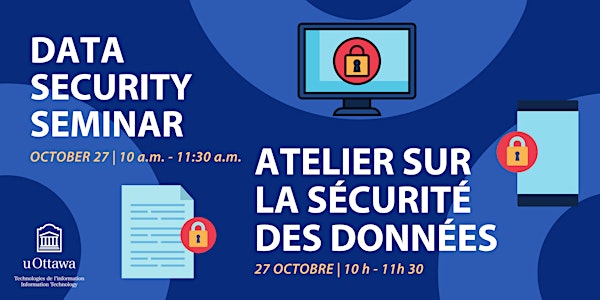 Data Security Seminar
Join the seminar to learn about data security and find out how to keep your information and identity safe.
About this event
Soyez futés. Pensez sécurité. Joignez-vous à Jarno van der Kolk pour en savoir plus sur les outils à utiliser pour prévenir le vol des données et possiblement de votre identité. Nous aborderons les tentatives de piratage, comment les reconnaître et éviter la compromission ou le vol des données. Nous discuterons aussi du chiffrement des données et les conseils à observer lors du voyage avec des appareils électroniques.
Le lien vers les réunions seront envoyés à votre adresse courriel quelques jours avant l'événement.
------------------------------------------------------------------------------
Be aware. Stay secure. Join Jarno van der Kolk to learn more about the tools you can use to prevent the theft of your data and possibly of your identity. Other topics of discussion will include common hacking attempts, how to recognize them, and how to avoid having your data compromised, stolen, or destroyed. We will also talk about data encryption and provide tips for when travelling with electronic devices.
The meeting link will be sent to your email address a few days before the event.