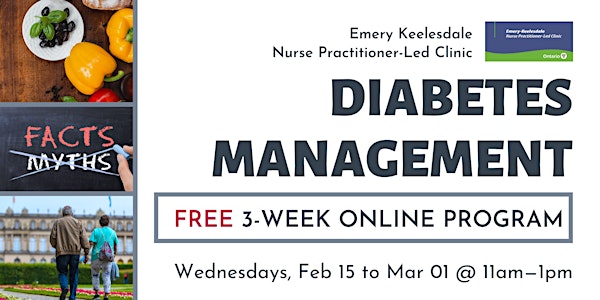 Diabetes Management Workshop
Three-week online program on managing type 2 diabetes to live a healthier life!
By Emery Keelesdale Nurse Practitioner-Led Clinic
Date and time
Starts on Wed, Feb 15, 2023 8:00 AM PST
About this event
EKNPLC's registered dietitian will teach you about several aspects of managing type 2 diabetes so you can live a healthier life. This program has three consecutive sessions — please attend all three!
Program Goals
Understand the basics of what is diabetes? (Physiology)
Clear up common diabetes myths
Learn strategies to prevent diabetes complications
Understand the action of the medications and lab results
Understand the effects of different foods on blood sugar levels
Learn how to plan balanced meals and snacks and balance your blood sugars
Dates
Wednesdays: February 15, 22, and March 1
Time
Location
Zoom (online)
Access through the Online Event Page and/or look out for an email with details closer to the start date.
About the organizer
Nurse Practitioner-Led Clinics are a new primary health care delivery model in which Nurse Practitioners are the lead providers. The team at Emery Keelesdale includes Registered Nurses, Registered Practical Nurses, a Dietitian, a Social Worker, a collaborating family physician, and other health care professionals. We offer a comprehensive, accessible, and coordinated family health care service to our community - especially those who do not have access to a primary care provider. EKNPLC has been providing services to Humber Summit in North York West and the Keele & Eglinton area since 2012.