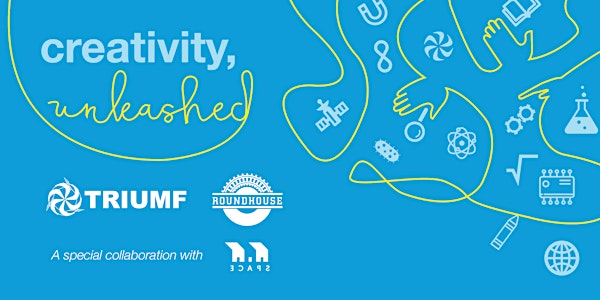 #discoverTHIS - Creativity, Unleashed
Event Information
Location
Roundhouse Community Arts & Recreation Centre
181 Roundhouse Mews
Vancouver, BC V6Z 2W3
Canada
Description
5-7 pm Wednesday, May 10, 2017
Exhibition Hall, The Roundhouse
From science to music, to product design, to community building, to entrepreneurship - go behind the scenes of the creative process as we explore ways that we can harness curiosity to unleash creativity. This dynamic living room-style conversation hosted by journalist, broadcaster, composer and writer Paolo Pietropaolo will bring together a mix of talented personalities from a wide range of disciplines to help us unshroud the creative process in its many forms. As the conversation unfolds, you may even discover new ways to let your curiosity come out and play and hack your own creative potential.
Host
Paolo Pietropaolo, journalist, broadcaster, composer, and writer

Panelists

- Beatrice Franke - TRIUMF Research Scientist
- Jordan Nobles - JUNO Award-Winning Composer
- Pat Christie Industrial Designer & Founder of SPACE
- Alexandra Greenhill - Physician & Co-founder of myBestHelper.com
Join us for informal conversations starting at 5:00 pm before our program officially kicks off at 5:30 pm when Paolo and our panelists engage in curiosity conversations. Q&A to follow.
A special collaboration with SPACE
About the #discoverTHIS series - A Roundhouse partnership with TRIUMF
Albert Einstein once said, "I have no special talent, I am only passionately curious." Curiosity is at the core of our humanity and what moves the world forward: it's the fuel that feeds discovery and innovation. TRIUMF's #discoverTHIS series brings together a multifaceted blend of personalities from science, technology, business, art, design, and other sectors for curiosity conversations. Events explore the intersection of wonder, imagination, creativity, ingenuity, and culture – and might help you tap into your own curiosity too! No mathematical or scientific knowledge is necessary or assumed.

Connect with TRIUMF on Twitter, Facebook, and Instagram: TRIUMFLab
Date and time
Location
Roundhouse Community Arts & Recreation Centre
181 Roundhouse Mews
Vancouver, BC V6Z 2W3
Canada