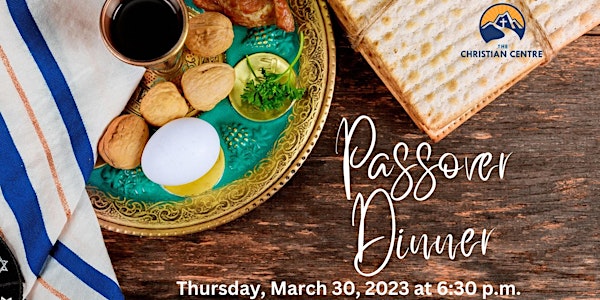 Easter Passover Celebration
Experience Easter (Passover) like never before! Join us for a night of fun as we enjoy a Seder together (traditional Jewish Passover meal)
Date and time
Thu, Mar 30, 2023 6:30 PM - 9:30 PM EDT
Location
The Christian Centre 60 Facer Street Saint Catharines, ON L2M 5J1 Canada
About this event
Come explore the Jewish roots of faith, and see how the death, burial and resurrection of Jesus is fully represented in the centuries old tradition of the Passover meal.
The Christian Centre is excited to host this Seder (traditional Passover meal) that includes reading, storytelling, eating special foods, singing, and other Passover traditions.
A Passover presentation will be made by our special guest: Messianic Mandate (an outreach Ministry of City of David).
Limited seating - Registration Required by Friday March 24th. For more details, email: info@thechristiancentre.org
A special Children's Program will be available (ages 5 thru 12) with dinner and activities provided throughout the evening.
Please note that all attendees (including children) must register through this site in order to be admitted to this event. The deadline for registration is Friday March 24, 2023, with no exceptions. Admission at the door will not be available without this online registration.
Doors will open at 6pm – Celebration starts at 6:30 pm sharp. Dinner will be served at 7:15 pm.
This event is Free and it is sponsored by The Christian Centre.
Donations would be greatly appreciated!
We look forward to seeing you on Thursday, March 30th.
About the organizer
We believe simply that we are on mission to show the love of God through Jesus Christ. We strive to be in relationship with those that God has given us, first in His family and with those that He puts in our lives. The Christian Centre is open to all, whether you are looking to pray, connect with others or receive teaching. Feel free to visit us on our Sunday gathering and meet our family. 
​
We are passionate about experiencing the presence of God in our everyday lives, our prayer and our praise.  Please feel free to contact our lead team.