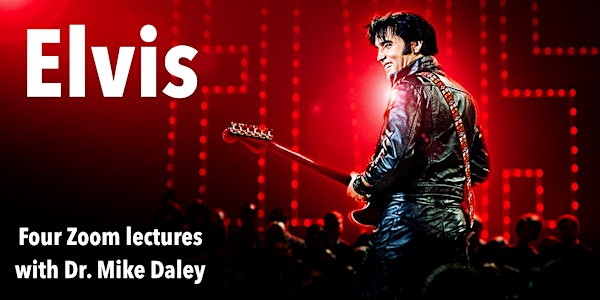 Elvis
Four Zoom lectures with Dr. Mike Daley
Refund Policy
Contact the organizer to request a refund.
Eventbrite's fee is nonrefundable.
About this event
"Iconic" is an overused word, but it surely applies to Elvis Presley. The name alone evokes rock and roll, the 1950s, excess and ultimately tragedy. Born into dead-end poverty in the South, he absorbed blues, gospel and country music before making a series of recordings and live appearances that quickly attracted notice. In his breakthrough year of 1956 his image and music was mass-mediated on television, electrifying teenagers and scandalizing adults. Elvis' alchemy of blues, gospel and country music defined rock and roll and revolutionized the music industry. His Svengali-like manager 'Colonel' Tom Parker took him to Hollywood before the U.S. Army took him to Germany where he discovered amphetamines.
After Elvis' discharge, Parker kept him off the concert stage in favour of often banal movie roles. But the hits kept on coming, at least until the Beatles reconfigured pop music in 1964. Elvis' music would fall out of favour for a short time, but a triumphant 1968 television appearance returned him to live concerts. These showy spectacles consolidated his fanbase in the seventies as his drug use and isolation increased. After Elvis' death in 1977 at the age of 42, his legendary status only continued. His image, music and name circulate through the culture in sometimes surprising ways, and the success of the 2022 Baz Luhrmann biopic proves his continued resonance.
Dr. Mike Daley leads this four-lecture Zoom series with his usual impeccable research, well-chosen video and audio examples and engaging style. Each lecture will be presented live and then made available indefinitely for unlimited streaming to subscribers.
Lecture 1: Beginnings
Born in Tupelo, Mississippi in 1935, Elvis Presley grew up a treasured only child of Vernon and Gladys Presley. Vernon's checkered work history and prison time guaranteed a precarious existence for the family, and they would make a fateful move to Memphis, Tennessee in search of greener pastures. There, Elvis was exposed to a thriving blues, gospel and country music scene where he absorbed the musical lessons that would soon define his unique performing style. In 1954 he connected with Sam Phillips at the pioneering Sun record company to make his classic first recordings.
Lecture 2: Breakthrough
An alliance with 'Colonel' Tom Parker, When the RCA record company bought Elvis' contract from Sam Phillips in 1955, the stage was set for his meteoric rise. "Heartbreak Hotel" was an immediate national hit, kicking off a string of successful singles. Elvis would appear on television several times in 1956, establishing his visual appeal for millions of viewers and courting controversy in the buttoned-down Eisenhower era. His transition into film acting soon followed, and by the time he was inducted into the U.S. Army in 1958 Elvis was a major star.
Lecture 3: Movies and a comeback
Stationed in Germany, Elvis was introduced both to amphetamines ('uppers') and to his future wife Priscilla, only fourteen years old at the time. RCA had stockpiled enough recordings to keep Elvis on the charts during his army stint, and some of his biggest hits would be released during his military sojourn. Upon his release he continued to make films that were reviled by critics and embraced by fans, but by 1964 his recording career would be eclipsed by the Beatles and their ilk. His triumphant 1968 television special was widely seen as a comeback, after which Elvis stopped acting and resumed concert appearances.
Lecture 4: The final years
Widely seen as a garish pop crooner by the 1970s, Elvis played to adoring audiences at his home base in Las Vegas and around the country. Still only in his thirties, his health was declining from amphetamine abuse. Holed up in his mansion in Memphis, he was increasingly isolated from the outside world by his entourage, the 'Memphis Mafia'. Despite this, he continued to rack up successes, including a pioneering 1973 concert broadcast around the world via satellite. Elvis' shocking death at 42 in 1977 only solidified his cultural ubiquity, and his image and music would circulate in popular culture to the present day in often surprising ways. A popular 2022 biopic brought a highly stylized version of Elvis' life and music to a new generation.