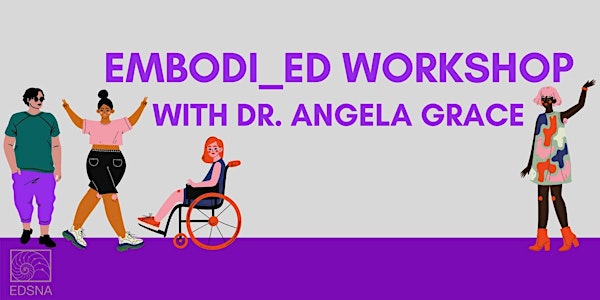 Embodi_ED
Challenge existing body norms, strengthen the connection between your body and mind, and learn to see your body through your own eyes.
About this event
Based on the principles of Embodiment, this workshop will help attendees recognize how the weaponization of bodies has encouraged us to disconnect from ourselves.
Through a mix of personal stories, case studies, research, and professional experience, body-image expert Dr. Angela Grace will discuss aspects of weight bias, its intersectionality with social justice, and how our bodies interact with the world.
Practical tips and strategies to address how we talk about bodies, and our body, will also be shared.
-----------
This workshop will be approximately 60-75 minutes, with time for Q&A
This is an 18+ event
Fee is by donation (suggested donation: $5)
------------
FAQ
Who can join this workshop?
This workshop is open to anyone over the age of 18. This includes those with and without a history of eating disorders/disordered eating.
What video conferencing platform will you be using?
EDSNA and Dr. Grace will be sharing this workshop via Zoom. You will receive a link to join closer to the start date and time of this workshop. The last Zoom link should be sent an hour before the workshop is set to start.
I want to participate but can't afford to make a donation right now- is that ok?
Yes! We want this workshop to be as accessible as possible- a donation is not required to attend.
I'm not comfortable having my camera on during the workshop. Can I leave my camera off?
Not a problem- whatever makes you the most at-ease and able to participate.