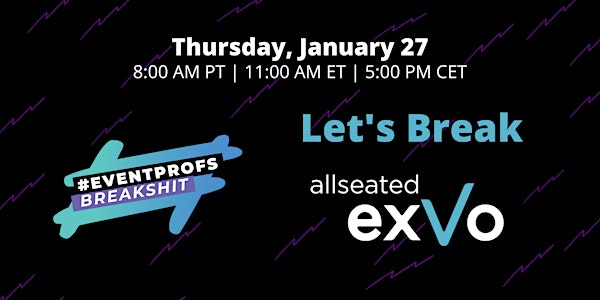 #EventProfsBreakShit x Allseated EXVO
Join us on January 27 to test (and hopefully break?) Allseated EXVO, a virtual event platform powered by Allseated.
About this event
#EventProfs testing #EventTech together!
Have you heard about Metaverse? Allseated's immersive event platform EXVO claims to be the solution for virtual event fatigue. While moving around in your digital twin, you dive into a metaverse experience that is engaging and different from other tools you have used. They claim that this is not the virtual event experience you have seen so far, and it is the future we are moving toward.
Have you built a Metaverse? Allseated is also about to launch its self-served backend to allow event organizers to create their own immersive experiences. 
This EPBS event is a special edition as the event will be divided into two parts. On January 27, we will gather at their venue and put their claims to the test. And the following weeks, you will have a chance to team up with others to navigate the backend and create your version of the Metaverse. 
Join us in January to break Allseated EXVO. Join the Meterverse revolution. 
This event is organized by #EventProfsBreakShit team. Please contact us at hello@eventprofsbreakshit.com if you have any questions.