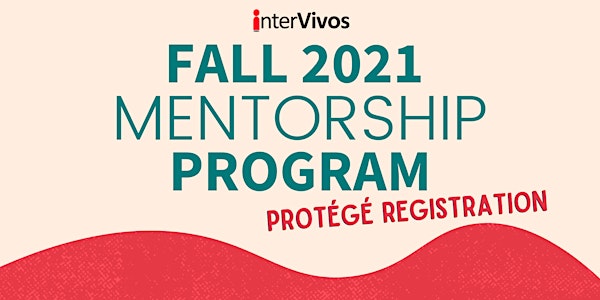 Fall 2021 Mentorship Program - Protégé Registration
interVivos Fall 2021 Mentorship Program - Protégé Registration
Refund Policy
Contact the organizer to request a refund.
Eventbrite's fee is nonrefundable.
About this event
Want to connect with Edmonton's best and brightest? Work on your professional goals? "Level up" in your community? Then this program is for you.
interVivos is thrilled to highlight a roster of amazing volunteer mentors for its Fall 2021 Mentorship Program.
Fall is a time to start fresh. After everything we've been through these past two years, this program is an opportunity to build new and diverse connections in Edmonton.
Our board is still concerned about everyone's safety, so we will be launching virtually over Zoom. Mentors and protégés are welcome to meet in person or virtually throughout the 6-month program.
interVivos has connected hundreds of mentors and protégés in Edmonton since 2006. While some people look to mentorship for career development, our six-month program focuses on the importance of a reciprocal relationship between mentors and protégés. Together, our mentors and protégés have worked on a variety of goals, such as personal growth and development, workplace challenges, career changes, building networks, and work-life effectiveness. Protégés from all backgrounds are welcome to register, but you must be based in Edmonton.
The fees collected from protégés are directly invested in our programs, events, and non-profit costs. Protégés will choose their fee on a sliding scale ($50, $60, $70) to participate in the Fall 2021 Mentorship Program. We also provide free protégé spots to local nonprofits.
This is what you need to know:
11 mentors meet 11 protégés at our program launch over Zoom to determine who is the best for them during the program.
The launch takes place on Tuesday, September 14 from 7pm-9:30pm. The Zoom link will be provided closer to the launch.
The program will take place from October 2021 to March 2022.
interVivos will provide you with resources and supports to guide you through the launch and the 6-month program. This includes a mandatory Zoom orientation scheduled for Thursday, September 9 at 7pm. The link for this call will be sent soon.
The launch is a series of speed-rotations, where mentors and protégés meet in pairs to discuss their goals and expectations in short 7-minute conversations in Zoom breakout rooms.
Participants rank their choices at the end of the evening, and interVivos will make the final matches in late September.
interVivos creates a safe space for all participants to share their experiences in the program. We have an open-door policy to build trust and a supportive environment.
Our volunteer board of directors is exploring options to bring together all of our Fall 2021 participants face to face in the not-so-distant future. Stay tuned for details.
Protégés must email a professional photo to connect@intervivos.ca by Friday, August 27, 2021. The photo will be used alongside your biography for program participants.
Fall 2021 Mentors:
Chelsey Quirk, Manager of Indigenous and Stakeholder Relations, Edmonton International Airport
Christina Ignacio-Deines, Partner, Designer and Artist, I-D BOHEMIA Lifestyle, Events and Interiors
Christine Channer Auguste, Founder & CEO, The Channer Group Inc.
Darija Slokar-Zlatarevic, Manager, Strategic Services, City of St. Albert
François Bourdeau, Senior Account Executive, Encore Business Solutions
Kevin Taft, PhD, Taft Research and Communications
Matt Schuurman, Artistic Director, Rapid Fire Theatre
Puneeta McBryan, Executive Director, Downtown Business Association of Edmonton
Renée Chan, Program Lead, Affinity Groups, United Way of the Alberta Capital Region
Trent Daley, Vice Chair, Anti-Racism Advisory Committee, City of Edmonton
Wing Chan, Founder/CEO, Nomiya
Here is what former protégés have said about their experience:
"The interVivos Mentorship Program was an excellent opportunity to network and connect with outstanding leaders in the community. Cultivating a close relationship with a community leader over six months is such a privilege. I feel grateful, and I will hold close all of the lessons learned as I move forward in my personal and professional worlds."
"The program is a great way to expand your network and build new skills. My mentor was fantastic and gave me great advice."
"I am thrilled with the interVivos program, and I am already recommending it to my friends."
"I appreciate the program's flexible structure regarding letting the partnership grow organically and set a working style that fits both the protégés and the mentor. "
"As a three-time participant of the interVivos mentorship program, I am happy with all of the mentors I have met. I have never had any problems, and I learned so much from them."
" I was so pleased with this program. The volunteer board at interVivos have all worked very hard, and it shows!"
Questions?
Check out our FAQs, send us an email at connect@intervivos.ca, or visit our blog.