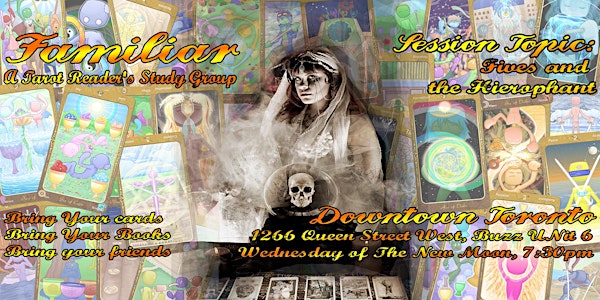 Familiar: A Tarot Reader's Study Group
When and where
Location
Hacklab 1266 Queen Street West Buzz unit 6 Toronto, ON M6K 1L3
Description
Hacklab goes analog with a study group for the 78 cards of the traditional tarot deck. Join Sonia as we learn the themes of numerology, Jungian archetypes, the Hero's Journey, astrology, Kabbalah and elemental astrology using Rider-Waite-Smith as a framework.
The group is totally free, snacks provided, pop for sale $1 and tea will be served. Suggested $5 donation to Hacklab.
Live 360 degree broadcast to Facebook live every month courtesy of our VR tech, as well as a hand-held up close and personal version. Tune in through the FB group https://www.facebook.com/groups/FamiliarTarot/ and join the discussion through commenting live! Live broadcast starts around 8:30pm.
Tarot is the mystic art of reading energies that layers ancient systems of gnosis including astrology, numerology, Kabbalah, Jungian psychology and symbology. These days, card producers are interpreting the deep symbolism through so many cultural and artistic lenses it's getting hard to keep track, and each lens offers us a new way of interpreting our cards and readings!
Let's come together and share every month on the Wednesday closest the new moon so we can deepen our understanding and relationship with our own practice. Bring your cards, bring your books, bring your friends (furry ok on a leash). Tarot decks & books swap too! All levels of reader welcome. The format is loose, but suggestions are welcome.
May's session we'll be learning about the Lovers and the sixes of the minor arcana.
Facebook group page for live stream: https://www.facebook.com/groups/FamiliarTarot/
YouTube live stream channel: http://www.youtube.com/c/TheRedSonia
Finding Hacklab.to: We're at Queen and Dufferin, warehouse on NW corner just west of the amphitheatre, buzz unit #6.