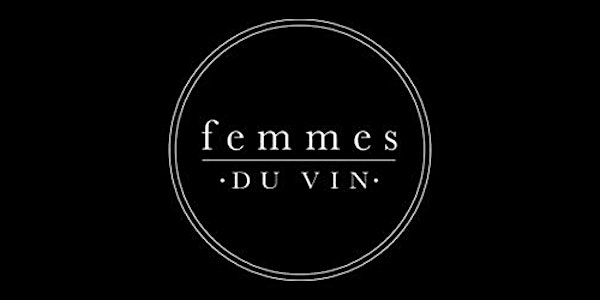 Femmes du Vin
Empowering and Inspiring Women of Wine
When and where
Location
Artscape Wychwood Barns 601 Christie Street Toronto, ON M6G 4C7 Canada
Refund Policy
Contact the organizer to request a refund.
About this event
Femmes du Vin Women of Wine Networking and Learning Event
Femmes du Vin is a movement with a goal: to create a community of women connected through the world of wines.
At our featured Toronto trade event we seek to promote, educate, mentor and positively impact women working in the wine industry. At this day-long event, you will be exposed to a variety of seminars led by leading women in the wine industry, including some of the world's top sommeliers, winery executives and others seeking to advance women in the profession. Included in your ticket is full-access to all seminars (5+), lunch, trade tasting and more. Among our confirmed panelists are:
Emily Pearce-Bibona, Founder, Femmes du Vin, MS & MW Candidate
Angela Aiello, Super Wine Girl, Entrepreneur, Educator, Host and Founder of iYellow Wine Club
Veronique Rivest, 2nd Best Sommelier of the World (2013)
Jennifer Huether, MS
Julie DuPouy, 3rd Best Sommelier of the World (2016)
Elyse Lambert, 5th Best Sommelier of the World (2016)
Michelle Bouffard, MW Candidate, Founder Tasting Climate Change
Michaela Morris, MW Candidate, Contributor Decanter, Meininger's Wine Business
DJ Kearney, Judge, Educator, Wine Writer, WineAlign
Magdalena Kaiser, Director PR + Marketing VQA Wines of Ontario
Sheila Flaherty, Halpern Wine
Renée Sferrazza, Heirloom Vine Imports
Elsa McDonald, MW, Arterra
and many more....
Toronto Event Schedule (August 18th):
9:30 AM: WELCOME COFFEE PRESENTED BY BEAN & BARREL
10:00 AM -10:45 AM: PROFESSIONAL DEVELOPMENT
On this panel-led seminar our guest speakers provide insights on how they have managed with success their own personal brand. Out of this seminar attendees should gain insights on best practices to manage their own personal brand. Panelists include: Angela Aiello (iYellow Wine Club), Michelle Bouffard (Tasting Climate Change), Elyse Lambert (Elyse Lambert).
10:45 AM -11:30 AM: FEATURED SEMINAR
11:30 AM - 12:15 PM: MANAGING THE AGENCY & EXECUTIVE WORLD
As we see, movement from being a sommelier to working for an agency is very typical in the wine industry. This is often not an easy transition, as the roles are not similar. Further, other women start out as an agent and receive very little on-job training. This seminar would discuss topics such as how to cold call and build a client list, navigating consignment space and client expectations, collecting money, and how to manage effective communication with your clients. With this seminar women would be better equipped to both transition into this role as well as start out in it. They will be more effective and successful in their roles, resulting in greater financial stability. Finally, honing these skills will advance these women as professionals and enable job advancement.
12:30 PM - 2:00 PM: TRADE LUNCH & FEMMES DU VIN WINE TASTING
This is a great opportunity to taste wines poured by agencies and wineries that are supporting the efforts of Femmes du Vin.
2:00 PM - 2:45 PM: THE BUSINESS OF BEING A SOMMELIER
The very best women sommeliers of the world talk about business management practices and how to succeed from a business perspective. Being a great sommelier is not just about pouring fine wines table-side and the excitement of working the floor. Great sommeliers must understand the business of wine.
Panelists include: Veronique Rivest (2nd Place, ASI World's Best Sommelier 2013), Julie DuPouy (3rd Place, ASI World's Best Sommelier 2016), Emily Pearce-Bibona and others.
2:45 PM - 3:30 PM: FEATURED SEMINAR - RAVINE VINEYARD (GOLD SPONSOR)
Lydia Tomek is the new Head Winemaker at Ravine Vineyards. In 1999, she started studying winemaking and grape growing by enrolling in the Cool Climate Oenology and Viticulture Degree Program at Brock. After completing her thesis in Viticulture, and working a couple of vintages in Niagara, Lydia graduated Top of her class and later began her winemaking career at the age of 23 making her one of the youngest winemakers in Canada at the time. Over the last two decades she has made her imprint on the Ontario wine industry as a Award Winning Winemaker developing her craft at various Niagara wine estates (Hillebrand, Jackson Triggs, Hernder Estates), as well helping to develop a new up and coming wine region, focused on making appassimento wines (Burning Kiln, Norlfolk). Shortly after receiving her pin from the Ontario Hosterley Institutes Top 30 under 30 , Brock University honoured her as one of their Most Distinguished Graduates in 2012 and used her in their both Sides of the Brain Student Recruitment campaign. She is a proud working mom that manages to balance family life with her career as well as helping her community by created the LocaLove Garden Project for kids, serving on boards such on Big Brothers Big Sisters , fighting for Multiple Sclerosis Canada, and helping to raise money for cancer treatment through the One Foundation. Lydia is proud and excited to make the future wines of Ravine grown organically on their unique site and will continue to elevate their wine portfolio making world class terroir driven wines.
We are excited to host Lydia Tomek, Winemaker at Ravine Vineyards for this featured seminar.
3:30 PM - 4:15 PM: WINE WRITING & JUDGING
Breaking into the world of writing and judging can be a challenge. There are no formal paths to acquire the skills, and without training, securing these writing and judging opportunities is difficult. This seminar will teach women how to objectively judge wine. Those in attendance will also receive hands on experience as the seminar will use blind wines, and there will be an open discussion about how these wines should be judged and why.
4:30 PM: MESSAGES FROM OUR PRESENTING SPONSORS & CLOSING REMARKS
Price : $79.95 + tax
VIP ticket*: $99.95* + tax
*Includes Femmes du Vin branded t-shirt and premium seating for all seminars. $10 from every Femmes du Vin t-shirt sale is provided directly to the Femmes du Vin Scholarship Fund, supporting one woman's advancement in the wine industry.
PRESENTING SPONSOR: VANCOUVER INTERNATIONAL WINE FESTIVAL
MEDIA SPONSOR: RESTAURANTS CANADA
Gold Sponsors: Ravine Vineyard Estate Winery & Prince Edward County Winegrowers Association
Silver Sponsors: Benjamin Bridge & Lifford, Adamo Estate Winery, The Vine Agency, California Wines, Wines of Argentina, Advini, Piera 1899, Noble Estate Wine & Spirits, Esprit du Vin
Bronze Sponsors: Jackson Family Vineyards, Wines of New Zealand, Halpern
Special Thanks: CAPS Ontario, Wines of South Africa, Andrew Peller Ltd, Nova Scotian Crystal, LVMH, The Living Vine, Agaru