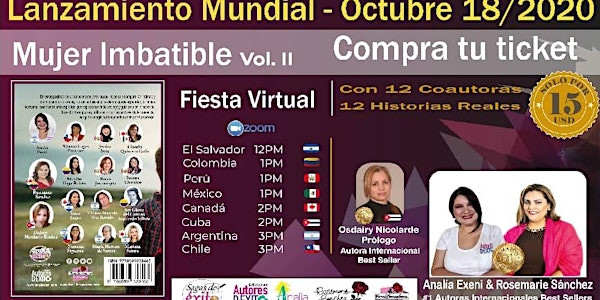 Fiesta Virtual
Lanzamiento del Libro Mujer Imbatible Vol.II, el domingo * 18 de Octubre* 2020. Son 12 Couatoras galadornadas con historia reales.
Refund Policy
Contact the organizer to request a refund.
About this event
Te invitamos a la fiesta virtual por el Lanzamiento del Libro Mujer Imbatible Vol.II que se celebrara el dia domingo * 18 de Octubre* 2020.
_ 12:00m El Salvador
_ 1:00pm México
_ 1:00pm Colombia
_ 1:00pm Perú
_ 2:00pm Canadá
_ 2:00pm Venezuela
_ 2:00pm Cuba
_ 3:00pm Argentina
En este maravilloso evento tendras la oportunidad de compartir con _Coautoras de Éxito internacional quienes compartiran contigo sus historias de vida y te contaran a detalle el camino que sigueron hacia convertirse en _Autoras BEST SELLER_ ✨✨.
_ Ximena Lagos de Chile
_ Jessica Soto de Perú
_ Claudia Quintero Colin de Mexico y Canadá
_ Anayibe Figa Robles. de Colombia
_ Rocio Juscamayta de Perú
_ Ivonne Cardenas de Perú
_ Irene López de El Salvador
_ Viviana Marcela Mio Bertolo de Argentina
_ Sor Gloria del Carmen Izquierdo Villota de Colombia
_ Normita Figueroa de Chile
_ Maria Herrero de Santos de Argentina
_ Mariana Santos de Argentina y Canadá
Son las autoras que te deleitaran en esta entrega, con Prólogo de Osdairy Nicolarde de Cuba y es Autora Internacional Best Seller ✨e invitada de honor junto a Las Autoras Internacionales BEST SELLERS Analía Exeni de Argentina y Rosemarie Sánchez de Venezuela y Canadá.
Ven y participa en este maravilloso evento donde tendrás la oportunidad de descubrirte a ti mismo, sobre cual es tu potencial máximo y descubrir si dentro de ti habita un Autor y Emprendedor de ÉXITO!! 💫