Description
Vernacular Jazz is a collection of dances created in the African-American communities during the late 1800's through mid 1900's, to jazz and swing music. From the Charleston to the shimmy, to Snake Hips, to the Suzy Q, we'll dance to some snazzy rhythms while learning the moves and grooves of original jazz dancing, and the tricks that bring this dance to life. © photo Alvin Collantes
• No previous experience required.
• Please wear comfortable clothing.
• Washrooms are available for changing.
• Bring your own water bottle.

Class capacity is 50 participants. 25 spots are being reserved for drop-in participants. Please arrive early to sign-in. Late comers will not be allowed entrance.

About the Instructor – Natasha Powell
Natasha Powell is the founding artistic director of Holla Jazz. She has made numerous appearances on film, television and stage, including the: HBO Series The L Word; Nickelodeon movie Spectacular!; and feature film Centre Stage 2. She was the co-director of Catalyst Dance Company and is the co-creator of the acclaimed dance-theatre project, Gimme One Riddim: A Tribute to Ska. After a New York residency period researching vernacular jazz, Natasha created Holla Jazz, where all jazz dances, hip hop, and house intersect to reinvigorate the idea of freedom and expressing one's own identity through the spirit of jazz.

Class Location & Arrival Information

Location: The Sony Centre For The Performing Arts – Rehearsal Hall
Entrance: Yonge Street Entrance (located along Yonge Street on the west side of the building halfway between Front St. and Esplanade - SEE PHOTO BELOW).
Doors will open at 5:30PM
Community Class Liability Waiver. As a participant, you only need to complete and return this form once. After that, you are eligible to participate in all community classes. Copies of this form are available upon arrival at each class. Alternatively, you may print and complete this form in advance and bring it with you to your first class.

Waitlist & Drop-In Information

Waitlist: If the Eventbrite Registration is full, we encourage you to join the waitlist! We will contact the waitlist with a class reminder and any updates regarding the number of available drop-in spots. If you are not contacted by Eventbrite to join the class, you are welcome to attend as a drop-in participant (first come, first served).
Drop-ins: Regardless of being on the waitlist, anyone is welcome to arrive as a drop-in participant. We will reserve 25 spots per class for drop-ins and will allow additional drop-ins up to the capacity of the class in case there are cancellations or no-shows.

Eventbrite Registration Policy
Cancellation Deadline - 24 hours prior to the class. If you discover you are no longer able to attend, we kindly ask that you cancel your order or email education@sonycentre.ca to notify us a minimum of 24 hours prior to the class.
After three "no-show" instances or three cancellations received with less than 24 hours' notice, CTT reserves the right to cancel any future Eventbrite orders you may have for Sony Centre Community Classes. If your Eventbrite Registration is cancelled, please note you are still welcome to attend as a drop-in participant if space is available!


YONGE STREET ENTRANCE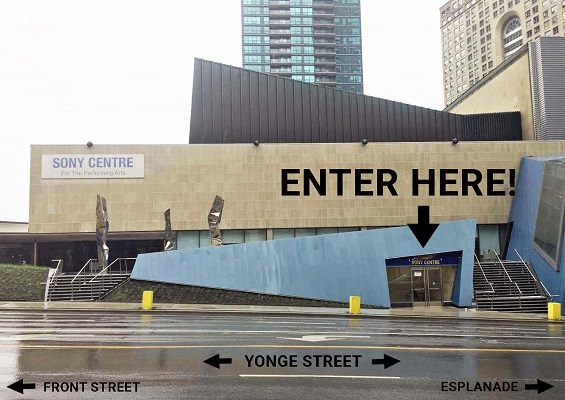 Organizer of FREE Vernacular Jazz Dance Classes