Description
RBC's Tech Community Team is proud to present the first FutureMakers Mega Meetup.
Please join us for an evening of networking, refreshments, and thought-provoking discussions with meetups from around Toronto.
The goal of this event is to discover and meet with members from the thriving Toronto Tech Community and discuss emerging tech topics in AI, cyber security, DevOps, and web development.
The evening will feature talks and workshops from Toronto meetups including: TorontoJS, AIGeeks, DevOps Toronto, Cyber Tech & Risk, and VoiceTechTO. Each meetup will host their own room bringing together technologists and practitioners from their respective technologies.


Agenda
4:30 – 5:15 pm – Registration and Networking/Refreshment Begins
5:15 – 5:45 pm – Intro & Keynote by Jeremy Shaki, Co-Founder and CEO of Lighthouse Labs
6:00 – 7:30 pm – Talks & Workshop
7:30 – 8:00 pm – Networking
Speakers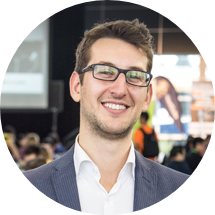 Jeremy Shaki, Co-Founder and CEO of Lighthouse Labs
As Co-Founder and CEO of Lighthouse Labs, Jeremy Shaki has spent a majority of his time helping tech communities think of improved ways in which to build their technology talent both for the immediate and long term futures. With a background in Experiential Marketing and Operations, Jeremy has endeavoured to build an education organization that relies on and feeds local developer and technology communities with the expectation that the only way that tech education can truly maintain it's relevance is to be completely interconnected with those of whom are spending their days pushing boundaries and innovating.
Breakout Rooms
>> AI for Social Good hosted by Artificial Intelligence Geeks
Come learn about how AI is creating a better world for social good. Speaker details are here.
>> Cyber Security hosted by Cyber Tech & Risk
Come learn about what it takes to be a cybersecurity professional and what happens when you hack a car. Speaker details are here.
>> DevOps hosted by DevOps Toronto


>> JavaScript hosted by TorontoJS
Come learn about the latest in the world of JavaScript applications. Speaker details are here.
>> Workshop - Building a Voice App for Banking hosted by Voice Tech TO:
If you're an engineer interested in building a "voice app", join Voice Tech TO for this workshop on How to Build a Voice-first App for Banking. This workshop will give you hands on experience with the toolkit to build Actions on Google by implementing a real-world 'voice-first app' for Mobile or Google Assistant enabled devices. This technical workshop will involve the setup of a webhook and the actual implementation and coding of a small web service.
Setup you will need:
- A laptop
- A Google mail (gmail) account (https://mail.google.com)
- A Google Developer account (https://console.developers.google.com)
- (optional) Mobile Device (although a simulator will be available for you to test your action) with Google Assistant.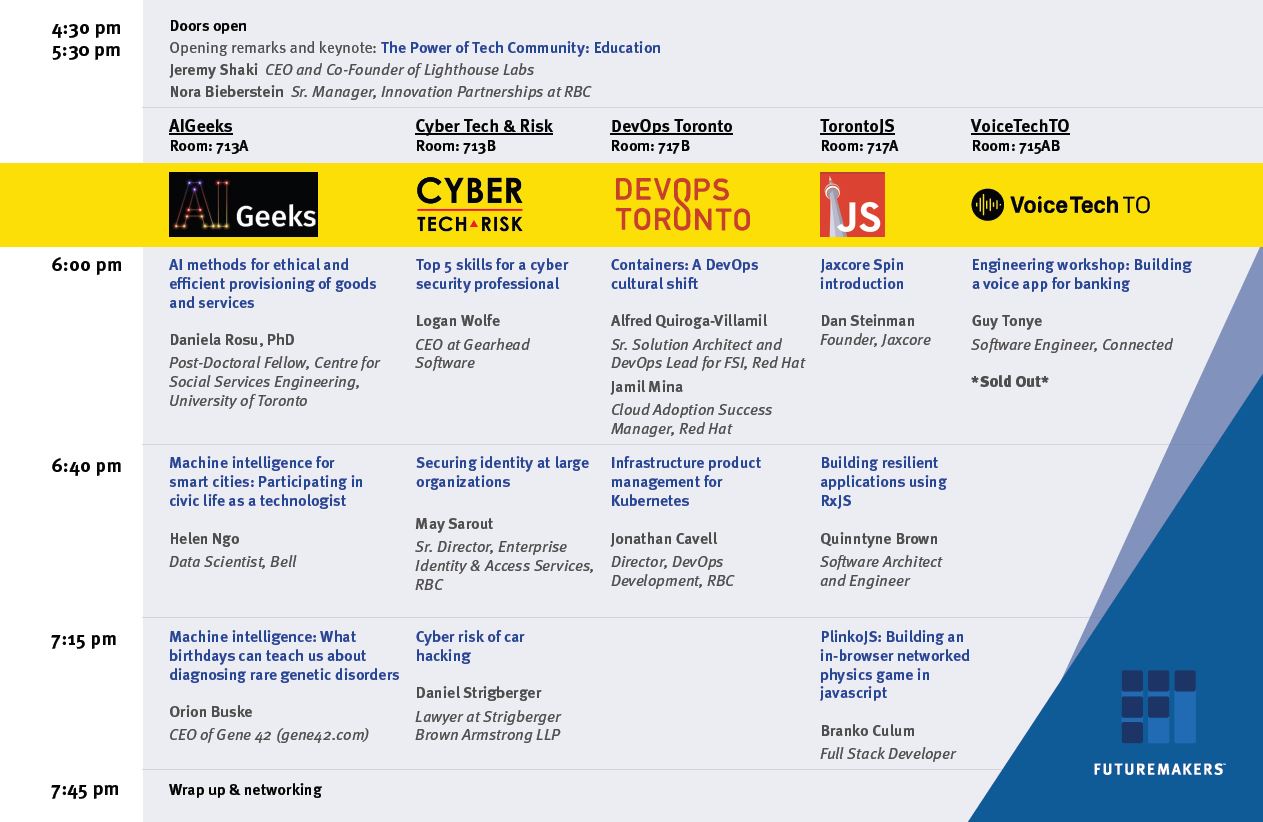 ---
Featured Meetups:
+ AIGeeks
The group is dedicated to promoting Artificial Intelligence, Machine Learning and other related topics.
#a11yTO is all about including new people into our community at our Meetups, camp, or to accessibility in general. Our goal is to provide a welcoming place for people to learn, share experiences ideas and solutions, and to collaborate on building a more inclusive web.

If you're interested in accessibility & inclusive design, this is your home. We usually meet once a month for presentations, tech talks, demos and more.
Cyber technologies such as AI, Blockchain, Quantum Computing, IoT, Big Data, Cloud are accelerating the growth of our economy and improving the quality of our life. Meanwhile, they are bringing the huge impact on our cyber risk, security, privacy, governance, and compliance. Just like Charlies Dickens wrote in his book "A Tale of Two Cities": "It was the best of times, it was the worst of times … it was the epoch of belief, it was the epoch of incredulity… we had everything before us, we had nothing before us..."

Our meetup is a hub for people who care about technology, risk, and security to get fresh ideas, learn latest skills, identify new opportunities, advance career development, and expand business & professional networks.

We will invite industry leaders and experts to speak on topics such as Game-Changing Technologies, Innovation Programs, Cyber Risk, Cyber Security, Cyber Strategy, Data Privacy, Cyber Compliancy, Cyber Insurance, Cyber Talents, Career Development, etc.
The future of the software world lies in the co-operation of development, quality assurance and operations. Delivering top-notch products quickly requires integration and collaboration -- no more silos.

This group is for people who share that vision. I wanted to create a meetup for like-minded folks to share ideas, complain, layout plans and vision for the future, and generally enjoy great company.
+ Toronto Machine Learning Series
TMLS events bring together business leaders and applied ML practitioners.
TMLS is a community of over 5,000 practitioners, researchers, entrepreneurs and executives . We work to highlight our community and foster growth in the local ecosystem.
Toronto JavaScript is a meet up for those interested in all things JavaScript. Client side, server side, we love it all!

Voice Tech TO is for developers, designers, and product managers to meet and exchange knowledge on the subject of voice products—how to make them, and how to make them better.
Whether building for Amazon Alexa, Google Home, Siri, MS Cortana, or Bixby, VTTO is a place for software developers, digital product makers, and business managers to get together, teach, and learn.