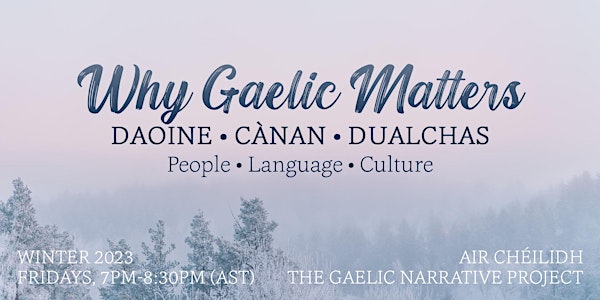 Gaelic Narrative Project
Nach tig sibh air chéilidh? Won't you come for a visit? Let's listen to stories we want more of, including those that have been hidden.
About this event
Next visit, January 27, 7:00-8:30 pm
Gaelic at the centre: why it matters
Hosts: Mike Kennedy and Frances MacEachen. Guest: Michael Newton.
What would prompt a young man to leave behind his country, his lifestyle, and a promising career as a computer programmer to begin a journey that would take him to the centre of the Gaelic world and make Gaelic a central focus of his life? Michael Newton did just that, becoming not only a fluent Gaelic speaker but an authority on Gaelic folklore, literature, and history. He has made it his mission to bring the story of the Gaels to a wider audience.
What was it that attracted Michael to the culture? What rewards and disappointments did he encounter and what did he learn along the way—about Gaelic, about community, and about himself?
Join us as Michael shares his personal journey and his thoughts on why Gaelic matters.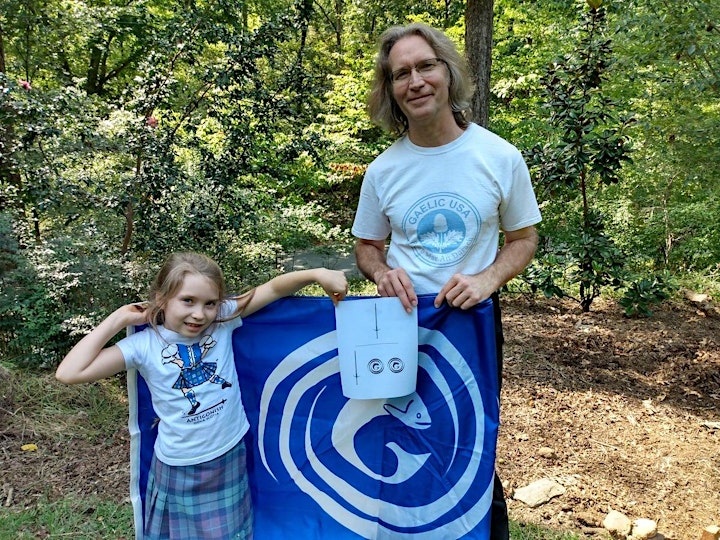 Michael Newton has a Ph.D. in Celtic Studies from Edinburgh University and has written andedited many books, including Seanchaidh na Coille: Memory-Keeper of the Forest, An Anthology of Scottish Gaelic Literature of Canada, and his latest book, Into the Fairy Hill: Classic Folktales of the Scottish Highlands. He is a leading authority on Scottish Gaelic heritage in North America. In 2018 he was recognized with the International Award, at the annual Scottish Gaelic Awards in Glasgow Scotland. His scholarship was used in the Outlander series and the forthcoming PBS documentary Voices Over the Water. He has worked in Gaelic communities in Scotland and Nova Scotia, and given public talks and scholarly presentations at such venues as the Smithsonian Museum and the U.S. Library of Congress. He established the Hidden Glen Folk School of Scottish Highland Heritage where he teaches students yearning to have meaningful contact with Scottish Highland tradition, history, and culture, and to drink from the authentic wellsprings of their heritage. He has been raising his daughter Róisín, 10, exclusively through the medium of Gaelic, and she is a fluent speaker and an enthusiastic singer and storyteller.
About Air Chéilidh | The Gaelic Narrative Project
Imagining new possibilities for Gaelic in our life and community
For many English speakers, céilidh conjures up images of a musical gathering in a hall or pub where you pay to be entertained. But in Scottish Gaelic, a céilidh is a visit, where news is exchanged, stories and maybe some tunes or songs are shared, along with tea and a bite to eat. A céilidh is a participatory affair, where you leave a bit more knowledgeable and uplifted than when you arrived. It is time well spent.
Air Chéilidh is a "narrative" project, because we are intentionally strengthening the narratives that sustain Gaelic language, culture and community, and "re-authoring" the narratives that hold us back. In this third season, we are asking Gaels what matters to them. When shared and made visible, stories about why Gaelic matters become a pathway to a future where Gaelic can thrive.
We warmly invite you to join us as we share stories about our connection with Gaelic language, history, culture and people. Whether you are totally new to the language and culture with no family connections, grew up among Gaels but don't speak the language, or a fluent speaker, there is space for everyone to explore what Gaelic language and culture means to you, our community, and our world.
The 2023 Air Chéilidh team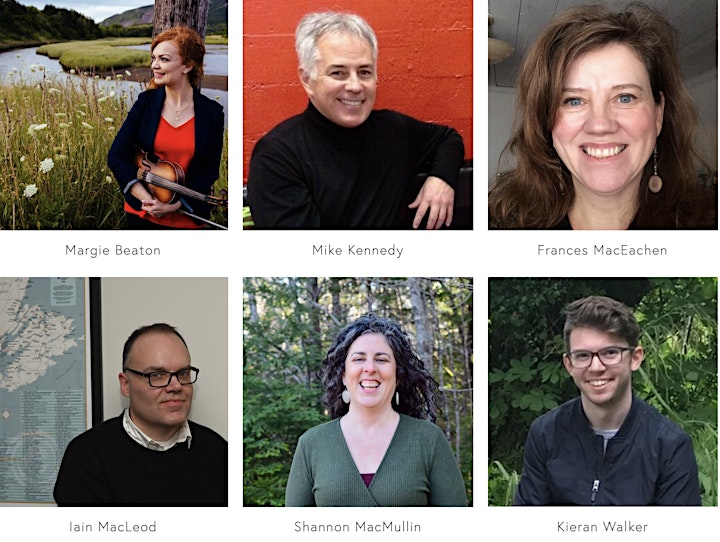 The Gaelic Narrative Project is a collaboration between How We Thrive and the Gaelic community living on the land now called Nova Scotia, the ancestral, unceded territory of the Mi'kmaq. The project is supported by the Province of Nova Scotia through the Department of Communities, Culture and Heritage Support4Culture program.