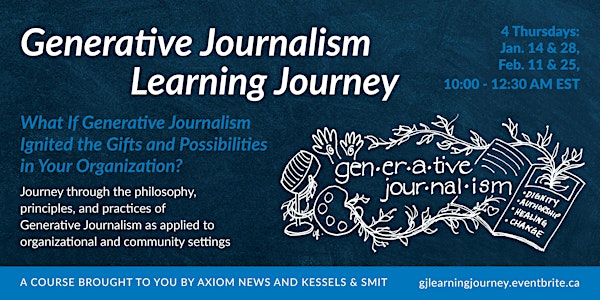 Generative Journalism Learning Journey
4-part Learning Journey: philosophy, principles, and practices of Generative Journalism as applied to organizational and community settings
Refund Policy
Contact the organizer to request a refund.
Eventbrite's fee is nonrefundable.
About this event
What If Generative Journalism Ignited the Gifts and Possibilities in Your Organization?
We can build back better to more egalitarian, well-balanced, and abundant workplaces
The September 2020 edition of AI Practitioner explores how Generative Organizational Journalism (GOJO) is a powerful practice for catalyzing change. GOJO energizes people to create the change they feel is needed. By being more present in our conversations and asking questions that matter, we can ignite energy and connection. We can reconnect people with the deeply heart-centred goals of their workplaces. We can spark joy, inspiration, and hope.
Generative Organizational Journalism (GOJO) thickens the rope of generative stories into a desired future story by story.
GOJO creates meaningful places in organizations, community, and society by encouraging people to see the extraordinary in ordinary daily working life. We can reconnect people with themselves, colleagues, and their work. We can reshape the way people communicate with each other, away from debate and toward dialogue that follows our curiosity.
Kessels & Smit and Axiom News are offering a Learning Journey into Generative Journalism. Mara Spruyt, Derk van der Pol, and Marijke Boessenkool of Kessels & Smit, and Peter Pula of Axiom News will guide you through a lived experience of Generative Journalism. This four-part course is intended for organizational leaders, journalists, communications directors, executives, change leaders, and the GOJO Curious.
If you would like to experience the potential of Generative Organizational Journalism to ignite the gifts and possibilities in your own organization or community, this series might be for you.
We will explore topics like:
The Art of Generative Questions
Flipping a Question for Fun and Energy
A GOJO toolbox
Creating a Collage of Meaning
How You Can Own Your Own Media
Being Seen and Storied
Designing GOJO Architecture
Together we can enable and ennoble organizations to liberate the gifts and strengths of their members to shape the purpose and culture of their workplace every day. These deeply democratic organizations will become places of wholeness and health. The social contract between people and the places they work can be rewritten, story by story, in generative terms.
Dates and Times
The Generative Journalism Learning Journey consists of 4, 2-hour sessions on the following Thursdays:
January 14, 28 and February 11, 25
7:00 am PST \ 10:00 am EST \ 3:00 pm GMT \ 4:00 pm GMT+1
What You Can Expect
In addition to an introduction and direct instruction on the philosophy, principles, and practices of Generative Journalism as a applied to Organizational and Community settings, participants will also experience opportunities to:
Contribute as members of the course 'hosting team'
Connect with your intentions for joining the course, learn, teach, and uncover new possibilities
Develop a new and growing community together
Attend workshops delivered during each session by the convening circle and other participants
Practice new forms of journalism
Practice other stuff
Teach what you know to other participants, with design and hosting support from the hosting team (if desired)
Professionally engage with those seeking to offer and to access GJ services
Understand necessary infrastructure for generating change through GJ
Design co-created projects and initiatives to extend beyond the scope of this course
If you choose to join us, we ask that you:
Arrive to each call a few minutes early
Commit to attending every gathering
Be fully present while at each gathering
Come prepared to learn from others
Share your gifts
How Your Registrations Fees Will Be Used
Your registration fees will resource and support convening, registrant on boarding, event design, event hosting, Zoom drivers, instruction and included workshops, workshop design support for participants who have a teaching to offer, the facilitation of a 'hosting circle' which is open to all participants who wish to participate and/or offer something to the design of each of the four events, integration of those offers into the experience hosted for all other participants, resource materials, the creation, curation, and distribution of content arising from each session, and administration and moderation of online dialogue space through the duration of the course.
A Note About Exchange Rates
We are making a clumsy effort to remove the skewing effect currency exchange rates have on equity and diversity.
As such, we are requesting registration fees of 550 units of your home currency for those of you who join us as members of institutions, and 350 units of your home currency for those who join us as individuals independent of an institution. Axiom News is administering registration from Canada. We ask that you convert your registration fees to CAD.
As we anticipate the majority of our participants will come from the E.U., U.S., U.K., and Canada we have made it easy for those of you who hail from these countries to make the conversion (super, super easy for Canucks). We invite you to consider that accepting all currencies at par is a step in the direction of appropriately levelling the playing field.
If you are from one of the countries that make up the majority of the world and which are not named above, we humbly ask that you see to the currency conversion yourself and enter that amount in the registration-fee box. The only way we are able to make a variable fee choice possible is by using Eventbrite's 'donation' function. The word 'donation' does not represent our meaning. Our intention is to make it possible for people to register with place-based price parity.
A Ticket Price That Works for You
We also celebrate the variety of life-stages, choices, and circumstances in our lives. No matter what, your presence is hoped for. We invite you to name a ticket price that works for you, from zero to a million, in your home currency, and also convert that to CAD.
For any questions, email events@axiomnews.com.
This series is supported by: