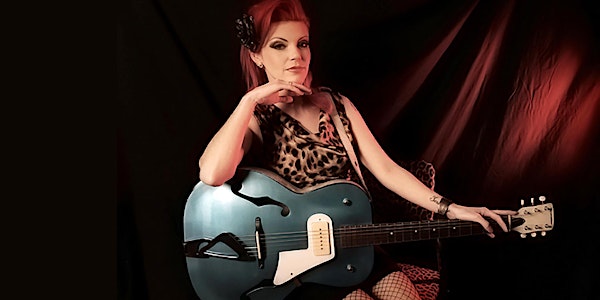 Ginger St. James
Ginger St. James' Halloween Hootenanny — Live at Bridgeworks!
When and where
Location
Bridgeworks 200 Caroline St. N. (off Barton St. W.) Hamilton, ON L8R 0A6 Canada
Performers
Headliners
Ginger St. James & The Grinders
More Performers
Chris Altmann & The Mystic Fingers
About this event
With her sultry and powerful voice, her sassy and commanding stage presence, and a repertoire that blends blues, rockabilly and country, Ginger St. James stands out as one of Canada's most exciting performers. Following the tradition of country songbirds like Loretta Lynn, Ginger writes and sings music from real experience; growing up on the family farm, being broke, having fun, and love gone wrong. She is tough, raunchy, has an undercurrent of humour and speaks to the concerns of folks who drink, dance, work two jobs and need to unwind at the first possible opportunity. Songs of hard luck, hard love and hard drinking are delivered night after night channeling a wide swath of enduring musical influences, funnelling them out in an intoxicating blend creating a sound all her own . At once the result is original, yet often as authentic as the source material. Ginger St. James has been creating and performing music for over a decade on the Canadian music scene and this "chick from the sticks" isn't stopping anytime soon. A new album is in the works and will be released 2021 on Busted Flat Records.
Instagram | Facebook | Twitter | Spotify | Apple Music
•
Songwriter, CCMA nominated pedal steel guitar player, and multi-instrumentalist Chris Altmann released his third solo album, Renaissance Man, through Ridin' High Records. Written between trips to Nashville and recorded in his century-old home in Canada, this low-fi collection of pedal steel driven rock 'n' roll reflects on change, personal loss, and moving on. Originally from the Adelaide Hills, Australia, Altmann now resides in Hamilton, Ontario. Along his journey, he has embraced many musical styles; from his country-rock tinged group The Drowners, to the more modern pop/rock sound of The Vandas, and on to a solo career steeped in early 1970s Americana. He's also in demand as a session player, appearing on dozens of roots recordings, and performing with many artists including Tim Hicks, Blue Rodeo, Henry Wagons, Michelle McAdorey, and Ginger St. James.
Facebook | Twitter | Spotify | Apple Music
•
DJ Aerlie Wild will be providing choice nuggets of Soul, Rock, Country, Pop, Funk and Jazz from the '50s, '60s & '70s.
•
In an effort to mitigate the continued impact of the COVID-19 pandemic, proof of full COVID-19 vaccination will be required for entry. This policy will be added to the mandatory public health measures already in effect.
The province of Ontario now requires attendees to supply government-issued proof of full COVID-19 vaccination (with Government of Canada approved vaccines, completed at least 14 days before gate time). Government issued photo ID matching details on vaccination or test result documentation must also be presented for validation purposes. If you were vaccinated outside of the province of Ontario or outside of Canada, please provide a digital PDF or printed copy of your government issued vaccination confirmation receipt for your Government of Canada approved vaccine. Electronic vaccine receipt can be obtained using a green Ontario health card via covid19.ontariohealth.ca.
Active screening, contact tracing, proper face masking and PPE, physical distancing from individuals outside of one's household, and capacity limits all have important roles to play in enhancing the safety of our performance spaces, limiting viral spread, and improving health metrics in the wider community.
••
This event is 19+. Valid government issued photo ID is required in order to enter. Door time, set times, and event schedule subject to change. Event subject to change in response to municipal and provincial public health guidelines.