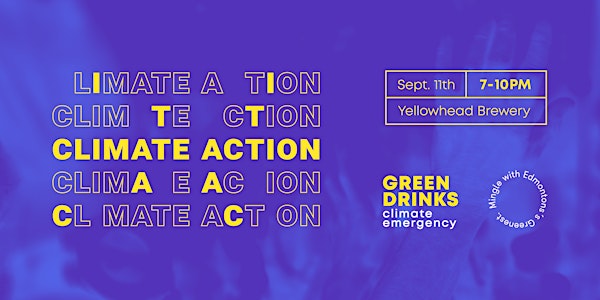 Green Drinks: Climate Action
Our first Green Drinks of the 2019 - 2020 season is all about turning your climate anxiety and angst into action.
When and where
Location
Yellowhead Brewery 10229 105 Street Northwest Edmonton, AB T5J Canada
Refund Policy
Contact the organizer to request a refund.
About this event
If you're anything like us, your concern about the climate crisis has reached an all-time high. We've heard the IPCC's dire warnings that we must act the most in the next 18 months to avoid catastrophic warming. We are smashing temperature records, permafrost is thawing faster than expected, and the waters are rising.
Our first Green Drinks of the 2019 - 2020 season is all about turning your climate anxiety and angst into action. We'll connect you with the awesome people and groups organizing in Edmonton to solve the climate crisis and create a livable future. Find out what they're doing, learn how to help, and join the movement!
SPEAKERS
- Melanie Hoffman, Climate Reality Project
- Erin Armstrong, Extinction Rebellion Edmonton
- Alison McIntosh, Climate Justice Edmonton
FEATURED GUESTS / ORGANIZATIONS
- Olivier Adkin -Kaya Edmonton Youth For Climate
- Rod Olstad, The Council of Canadians
- Fruits of Sherbrooke
- Nirwair Bajwa, Canada Green Building Council - Alberta Chapter
- Michael Barnard, Green Leagues
ABOUT THIS GREEN DRINKS SEASON
For the first time ever, Green Drinks has a season-long theme: Climate Emergency. It is not an exaggeration to say that we are now in the pivotal decade that will determine whether Earth's climate will allow humans to thrive for generations, as we would expect. A report published last year by the Intergovernmental Panel on Climate Change (IPCC) warned that we only have until 2030 to reduce global carbon emissions by 50% in order to keep global warming to a "maximum of 1.5 C, beyond which even half a degree will significantly worsen the risks of drought, floods, extreme heat and poverty for hundreds of millions of people."
In this context, The Local Good is dedicating this Green Drinks season to exploring the many different aspects of the crisis and just as many ways we can do about it. Events will touch on everything from politics and policy, to the role cities can play, to economic and energy transition, to dealing with climate despair. Whatever the topic or format, this season's Green Drinks events will help you connect with other people who care deeply about climate action and want to collaborate, share ideas, and make a real difference.
TICKET INFORMATION
This season, we have introduced a Pay What You Can Option. We have set our prices at $15 per ticket to cover our costs, but we welcome you to select the Pay What You Can option to make it affordable for you. If you would like to give us a little extra (which will be used to cover costs including: materials, team and speaker honorariums) we'd be extremely thankful.
APATHY IS BORING
This month's Green Drinks is supported by funding from Apathy is Boring, a non-partisan, charitable organization that encourages Canadian youth to be active and engaged citizens. For the federal election, AisB is focusing heavily on keeping youth informed about the latest in Canadian politics and also helping them overcome any barriers (physical or otherwise) that might prevent them from voting.