Description

Hacking Health Hamilton Hackathon
Mohawk College

, April 28-30, 2017


---
Prizes
Muse Headband provided by InterAxon
Muse is a brain-sensing headband with an SDK and tools for Android, iOS, Mac, Windows and Linux.
Application Design Sessions provided by Mohawk MEDIC
Mohawk MEDIC is cross-disciplinary team of experts in digital health, interoperability, integration with healthcare systems, system and application design. The Application Design Sessions will focus on design, architecture, requirements gathering, wireframing, and will be customized to the needs of your team.
1st Place: five 3-hour application design sessions

2nd Place: three 3-hour application design sessions

3rd Place: one 3-hour application design session
Innovation Exchange Opportunity provided by HHS and IBM
The winner(s) will have a special opportunity to pitch in front of the HHS-IBM Innovation Exchange group.
If they are accepted, they will be provided 3 months of incubation, space and services at the Innovation Exchange, a new IBM Innovation Space in downtown Hamilton. Services include access to BlueMix and Watson.
People's Choice Award
Voted for by the participants on Sparkboard!

---
Event Sponsors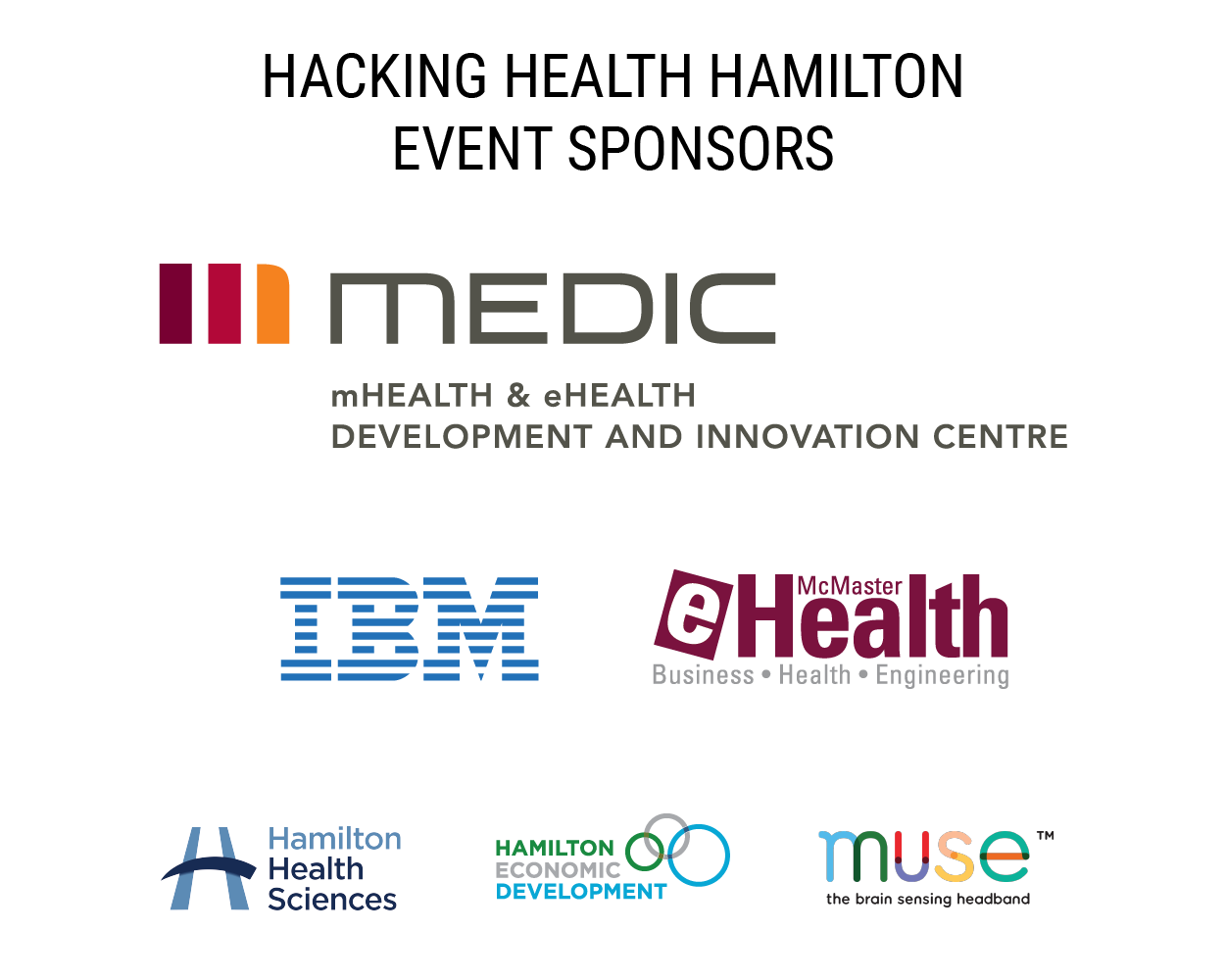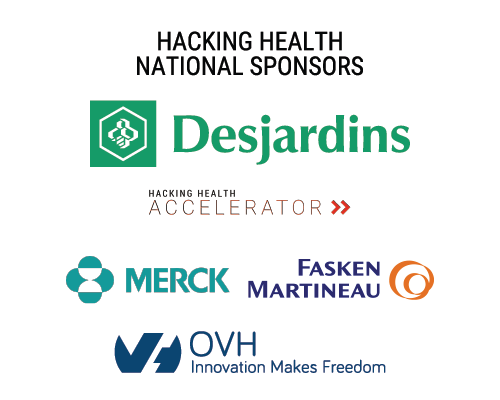 ---
Pitch ideas, form teams, get advice from experts, and build a health app in one weekend. Present your finished product in front of a panel of judges for a chance of winning some fantastic prizes!
Healthcare faces many critical problems. Hacking Health is designed to improve healthcare by inviting technology creators and healthcare professionals to collaborate on realistic, human-centric solutions to front-line problems. Our weekend hackathons are fun, intense, hands-on events where small teams tackle tough problems in a supportive community of peers and mentors.
REGISTER TODAY and join us April 28-30, 2017, for our Hacking Health Hamilton Hackathon.
Be part of a global movement bringing innovation to healthcare...right here in Hamilton!
How to participate
Pitch Your Ideas on Sparkboard
As soon as you get your tickets for the hackathon, go to the Hacking Health Hamilton 2017 Sparkboard, a website that we are using for the Hackathon where you can pitch your project ideas, describing them briefly and listing their requirements (designer, developer, medical expert, etc), or find a pitch/project idea that interests you or that matches your skills.
Need inspiration if you're thinking about making a pitch? Check out last year's Hacking Health Hamilton 2016 Sparkboard. You can also visit previous Hacking Health Hackathon success stories.
Weekend at a Glance
Pitch ideas and form teams on Friday night, get expert advice throughout the weekend, fuel up on the breakfast, lunch and dinner we will provide (see Event Schedule below), and present your finished product to our judges for a chance at winning several fantastic prizes!
Check out last year's hackathon video
Notice
Attendees are aware that photographs and video will be taken over the course of the weekend.
If you have any dietary or mobility restrictions, please inform us when register.
Questions or Comments?
For more information, visit our website at http://hackinghealth.ca/city/hamilton-canada.
Email: hamilton@hackinghealth.ca
Twitter: @HHHamOnt
Facebook: facebook.com/HackingHealthHamilton


---


Event Schedule
Day 1 – Friday

5:00 pm: Registration & Pitch Clinic
6:00 pm: Networking Reception, light food & refreshments provided
7:00 pm: Program Begins
7:30 pm: Pitches
8:30 pm: Team Formation
10:00 pm: Venue Closes
Day 2 – Saturday
8:00 am - 9:00am: Breakfast
9:00 am: Workshop!

9:30 am: HACK!
12:00 pm - 1:00 pm: Lunch
1:00 pm: HACK!
1:00 pm - 4:00 pm: Mentoring Session
5:30 pm - 7:00 pm: Dinner
7:00 pm: HACK!
10:00 pm: Venue Closes
Day 3 – Sunday
8:00 am - 9:00 am: Breakfast
9:00 am: HACK!
12:00 pm - 1:00 pm: Lunch
1:00 pm - 2:00pm: Final Pitch Preparation
2:00 pm: Demo and Pitch Program
3:30 pm: Judges deliberate
4:00 pm: Winners announced and Prizes given out!
5:00 pm - Venue Closes
---
Day 3 Details and Documents
Presentation Guide (PDF)
https://drive.google.com/open?id=0B-Ix_QEsRyfBa1BOcU5XWEpqcWc
Judging Rubrik (PDF)
https://drive.google.com/open?id=0B-Ix_QEsRyfBaFE1bUhHR1pKckU
Sparkboard deadline
Please have your projects completed on Sparkboard before 11:45am on Sunday. After that, the project pitch order will be randomized, and any projects coming in late will be added to the beginning of the pitch order. No projects will be accepted after 1:45pm.
You projects should have:

A memorable title
A logo (if you do not have one, a relevant photo is okay too).
A brief description of the problem you are trying to solve
All team members should create an account and join the team
Sparkboard link: https://hhhamilton2017.sparkboard.com/
Pitching
Pitches will be limited to 3 minutes and judges will have 2 minutes to ask questions.
Please test your laptops and demos at the podium between 9am-11am. If you have technical difficulties during your pitch, it will cut into your time.
---
Mentors
Mentors have a vast wealth of experience and will offer their knowledge, expertise, and insights to all hackathon participants.
A big thank you to our Hacking Health Hamilton mentors.
Gordon Alexander
Douglas Petican
Chitresh Singh
Jim Magahey
Tom Doyle
Bernard Lim
Tammy Hwang
Carolynn Reid
Alex Muggah
Paul Brown
---
Judges
Paul Brown
Paul Brown is the General Manager for Mohawk College's MEDIC Applied Research Centre. Having worked with Mohawk for 7 years, he oversees international projects which include the creation of OpenIZ, an open-sourced immunization platform for Tanzania, implementations of the Mohawk Client Registry in South-East Asia, and educational knowledge transfers around the world. In North America, his partnerships include NSERC, IRAP, eHealth Ontario, Canada Health Infoway, and Ontario's Ministry of Long-Term Health Care. He is responsible for the delivery of the NSERC digital health Technology Access Centre program which provides technical and business development to small and medium sized enterprises across Canada. A passionate advocate for innovation, Mr. Brown creates linkages between entrepreneurs, funders, and government agencies. He is a proud graduate of Software Engineering at Mohawk College and McMaster University. He has mentored hundreds of students to provide the industry with new future ready technologists.
Gordon Alexander
Gordon Alexander is the Healthcare Industry Technical Leader for the IBM Collaborative Innovation Centre - Healthcare in Hamilton. He is a Senior IT Architect with 29 years of experience in the IT industry. Gordon has been with IBM Canada for over 19 years, and prior to that, for 10 years with the IT departments of The Co-operators Insurance and Canada Trust Financial Services. On March 8, 2016, IBM Canada and Hamilton Health Sciences announced plans to establish a new centre in downtown Hamilton focused on healthcare innovation. The centre gives area healthcare providers, researchers, innovators and entrepreneurs advanced technology tools and expertise to improve healthcare outcomes and put Hamilton on the map as a hub for healthcare innovation in Canada.
Ted Scott
Ted is Chief Innovation Officer and Director of Strategy at Hamilton Health Sciences, where he focuses on bringing resources, partnerships and thought leadership to develop new, innovative approaches to the delivery of health care in our community. With dual responsibility for advancing Hamilton Health Sciences' organizational strategy, "Best Care for All", Ted ensures that HHS initiatives remain focused on achieving the hospital's 'North Star' metrics. Ted is also the HHS lead for the HHS Innovation Exchange, the hospital's new collaboration initiative with IBM Canada. Prior to his work at HHS, he was inaugural Chief Innovation Officer at Mohawk College and led the development of the college's applied research and innovation programs. In this role, he facilitated the development of large scale, digital health solutions in Canada, Africa and South Asia.
Gay Yuyitung
Gay Yuyitung is the Executive Director at MILO (McMaster's Industry Liaison Office); this office supports faculty and staff at McMaster and the affiliated hospitals in working with industry for sponsored research contracts and in the commercialization of their research. She has experience in negotiating license agreements to transfer technology from the university to both large multinationals as well as small and medium sized enterprises. Gay has also sat on the board and provided management support for several McMaster start-up companies, and assisted with obtaining further government grants to support commercialization, as well as angel or venture capital investment. Prior to joining MILO, she has had experience with marketing at MDS Nordion and Eli Lilly. Gay has her PhD in chemistry from the University of British Columbia and an MBA from McMaster.