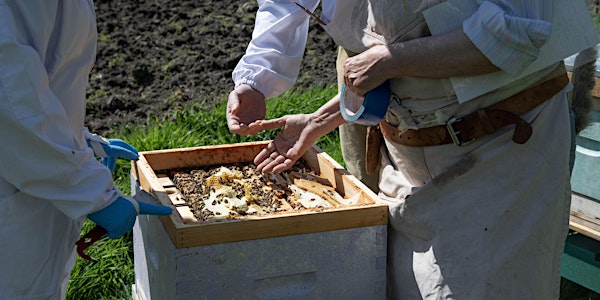 Hands-On Beginner Beekeeping Course, 2-Days
In this beginners class with hands-on in-the-hive learning you will learn the theory and the practice needed to start beekeeping!
Date and time
Starts on Sat, Jun 3, 2023 9:00 AM PDT
Location
Urban Bee Supplies 5300 34b Avenue Delta, BC V4L 2P1 Canada
Refund Policy
Contact the organizer to request a refund.
Eventbrite's fee is nonrefundable.
About this event
2 Day Class:
Day 1: June 3rd 9 AM - 5 PM, &
Day 2: June 4th 9 AM - 5 PM
Description:
In this course, led by instructor Julia Common, you will get to learn beekeeping hands-on in the educational apiary located on site at Urban Bee. The class will be a mix of field work and classroom work as appropriate and depending on weather, with an emphasis on providing in-the-hive practice to help drive the theory home.
Beekeeping is an immensely rewarding but also significantly challenging pursuit. Taking a beginner class will help you start your beekeeping adventure right, giving you detailed instruction on what to expect over the course of a season, and helping you understand what you are seeing each time you open your hive. Beekeeper knowledge is the most important part of keeping healthy and happy bees, and will help ensure your apiary becomes a source of pleasure and enjoyment.
We have been helping new beekeepers in BC get their start for over a decade. Our instructor Julia Common has decades of experience in beekeeping both in the city and out of it, and has helped hundreds of new beekeepers start their beekeeping journey already. We have learned a lot together over the years from our class attendees and customers about the needs and challenges for new beekeepers, and we strive to apply that knowledge to help our registrants succeed in their new passion.
Whether you are planning to be beekeeping in your backyard, on a small acreage, and/or as a part of a business - we look forward to welcoming you into the wonderful world of beekeeping!
Note: We currently have starter hives ('nucs') available for sale for early June. These may be a great option for a new beekeeper who wants to take a class and get their bees around the same time. You can view those here.
About this course:
Beginner Beekeeping classes have a focus on the practical knowledge and technique needed to get started with honey bees, and will involve a mix of in-the-hive practice and necessary classroom learning. The class will cover all the core topics needed to get started in beekeeping and keeping happy and healthy colonies. We will spend a large portion of the class in-the-hives, weather permitting.
Class runs from 9am-5pm Saturday and Sunday, including a break for lunch each day.
About the Instructor:
Julia is a Vancouver, BC-area beekeeper with over 40 years of experience. She is a BCHPA certified instructor, BC Regional Director for the Western Apicultural Society, and member of the Canadian Association of Professional Apiculturalists. Formerly the co-founder and chief beekeeper of Hives for Humanity, Julia's current focus lies in her research, pollination work, and livestock production through her new operation 'Bees Actually'. Julia is also a frequent speaker at local bee clubs, providing knowledge and insight in her unique voice to hundreds of local beekeepers year after year.
Julia has many years of experience helping new and hobby beekeepers. Through her work with Hives for Humanity she came to understand very well the unique challenges and considerations of urban beekeeping. However, the bulk of her hives have remained in rural Ladner, and with experience in crop pollination she also understands the unique challenges of countryside beekeeping.
Regardless of your setting, Julia knows what is most helpful for "newbees" making their management decisions and is inspired to help them become thoughtful and successful beekeepers. You will love her enthusiastic teaching style, and she is very well known for her fun & insightful presentations.
Format:
This course covers such core topics as:
Introduction to Bees & Beekeeping, the Basics of Beekeeping, & Supply / Equipment Basics
The Four Seasons of Beekeeping & Annual Cycle
Products from the Hive
Honey Harvesting
Integrated Pest & Disease Management
Bee & Colony Nutrition, Growth & General Health
Overwintering colonies
& more!
Above: (1) Julia providing outdoor instruction during a Summer workshop, & (2) Julia beginning a hive inspection with workshop attendees, at the Urban Bee Educational Apiary.
Where is this event?
This workshop will take place at Urban Bee located at 5300 34b Avenue in Delta, BC. We are located in the same location as West Coast Seeds, of which Urban Bee is a division, and we share their beautiful grounds which include trial gardens, orchards, and a beautiful heritage house.
It also includes our educational apiary which is set-up and is maintained specifically for the purpose of facilitating beekeeper education, with the goal of being able to offer hands-on learning and mentorship throughout the year to local beekeepers. We hope this will help new beekeepers take up their new passion with greater ease and help support hobby apiarists in their pursuit of joyful and sustainable beekeeping.
Our store is here as well and there will be access to the Urban Bee retail space if you want to visit or purchase anything before or after the class.
Depending on class size the event may take place either inside the main building or inside the heritage house. In either case, there will be access to washrooms, a kitchen with fridge, water/coffee/tea, some snacks and other amenities. That said, we are only 5 minutes from Ladner village where you can quickly pick-up a bite to eat during the lunch break!
Photo Above: Urban Bee's retail store and warehouse is in the big red building. Larger classes may take place inside the upstairs or downstairs. Also in the photo is the yellow heritage house (behind the trees), which is where we often have smaller classes and workshops.
Photo Above: More teaching by Julia in our educational apiary.
Photo Above: This heritage house from the early 1900s is a beautiful on-site fixture. This is how it appears when standing at our educational apiary. Depending on class size, our classes may take place here. You are also welcome to walk the grounds, and may even decide you'd like to take your lunch on the heritage house porch during the beginner class lunch break.
Photo Above: Julia Common leading a workshop in one of our 2022 workshops at our Educational Apiary.
Above: Photo of our on-site beekeeping retail store. We are a one-stop beekeeping shop and can set you up with all of your beginner beekeeping equipment and supplies! Please feel free to visit and talk with our friendly staff during before or after the class and we would be happy to help you with your supply needs and questions.
IMPORTANT NOTES (PLEASE READ PRIOR TO REGISTRATION):
Please anticipate that a mandatory waiver of liability will need to be filled prior to beginning participation in this class in recognition of the inherent dangers associated with any potential field work and handling of honeybees and related equipment.
Hive tools and any other direct bee/hive handling equipment will be provided by the instructor. This is required to prevent the spread of disease into the educational apiary. However, your freshly laundered protective clothing and a bee smoker are acceptable, if you already have your own!
Photo above: Image of one of our educational apiary hives during an in-person workshop.
Photo above: Honeybee Diseases & Pest by CAPA, Backyard Beekeeper by Kim Flottum, The Beekeeper's Journal by Kim Flottum
These are some great book options we recommend picking up before or after your class. You can find them here on our website: https://urbanbeesupplies.ca/collections/books-posters
Regarding cancellations:
Please note that if you register and must later cancel your registration for the class due to personal circumstances a full refund can be provided minus the Eventbrite fee. Cancellations must be received 48 hours prior to the start of the workshop to provide adequate time to find a new attendee. If the cancellation was requested less than 48 hours prior to the event and we are unable to fill the vacant attendee spot Urban Bee Supplies reserves the right to retain the full payment.
Above: Photo of a beautiful day in the educational apiary last year during one of our workshops.
We look forward to being a part of your beekeeping adventure!
About the organizer
Urban Bee provides beekeeping courses, seminars and events at a variety of skills levels ranging from totally new to intermediate.
Urban Bee primarily operates as a beekeeping supply store for both total beginners ('newbees') and more experienced beekeepers. We specialize in meeting the needs of backyard & urban beekeepers.
If you think you may be interested in starting in beekeeping, we encourage you to come see us in our store in Ladner and say hi, or check out our website! You can also reach us via phone at 604-364-1993 or email sales@urbanbeesupplies.ca. We look forward to hearing from you.
Urban Bee provides courses, seminars, beekeeping equipment, honeybees for sale, beekeeping supplies, feed & health products, honey, and more!